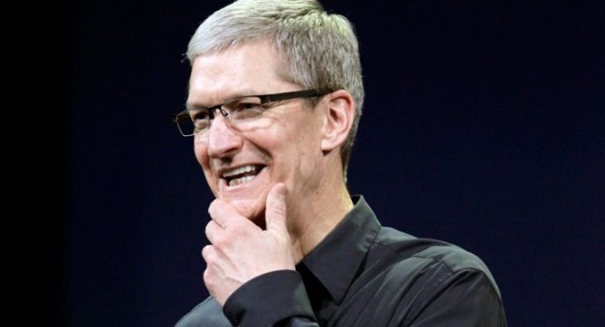 Tim Cook offers advice to Duke MBA students.
Apple CEO Tim Cook has been under close scrutiny since taking over from Steve Jobs. So far, the news coming out of the company has been more of the same: numerous problems, firings, and reports of the imminent fall of the company due to falling stocks and competition from the Samsung/Android offensive.
Bloggers, journalists, and others have started forecasting a different Apple Inc., one which doesn't innovate as much, or set the market on fire. Apple, they persist, is on the decline. Some have even blamed Cook's lack of leadership and an inability to think outside the box. Cook has rarely emerged as a visionary in his own right, though that perception might bear some reevaluation.
In a recent closed-door session at Duke's Fuqua School of Business, Cook, an alumnus (1988), took an interesting question about when it's okay to break the rules. Bloomberg Business Week reported that Cook believed that one should rarely follow the rules.
"I think you should write the rules," Cook said. "If you follow things in a formulaic manner, you will wind up at best being the same as everybody else. … If you want to excel you can't do that. I watched a lot of companies do that, and I think that's a rotten strategy. I think you need to write your own rules."
As reported by Sci-Tech Today, Cook is apparently taking his own advice, and starting to write his own rules. And this comes in preparation for the company's big June 10 announcement that's expected to be the official unveiling of the new iOS 7, and possibly, something more. Cook is reticent about the details. From smart watches to speculations on a new Apple TV set, anything can happen. During the All Things D conference Cook discussed releasing products when they're ready, the elements of surprise, and even Google Glass. One definitive piece of information offered to the journalists was Cook's affirmation that Apple had several more game changers that people should be on the lookout for.
With so many products being variations on the popular iPad (the iPad Mini), the iPhone, and iPod Touch, some have claimed that Apple's last great innovation was in 2010 (that would be the release of the iPad).
And for those who are questioning Apple's innovation since Jobs's death, Cook asserts that innovation isn't about making new products, you only need fresh ideas.
Here's hoping Cook and his colleagues can knock an innovation out of the park, by hopefully, writing his own rules.