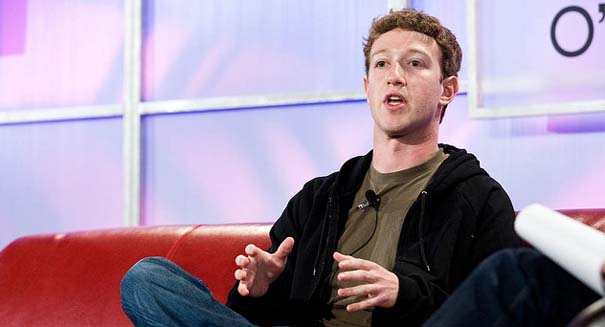 Would you give Mark Zuckerberg high marks?
Facebook's IPO was a complete debacle. The Associated Press notes that the social media network's IPO was predicted to be larger than some of the biggest companies' IPO in U.S. history, but by the end of the first day of public trading, Facebook's stock was just 23 cents more than $38 IPO price. And as many critics have noted, Facebook's stock has never been that high since.
The San Francisco Chronicle's blog "The Tech Chronicles" points out that Facebook CEO and founder Mark Zuckerberg's approval rating among employees actually increased, despite the disappointing IPO.
According to jobs and careers site Glassdoor, Zuckerberg got a 99 percent approval rating from employees, which is a noticeable increase from an approval rating of 95 percent one year ago. Glassdoor says that the ratings for what is was like to be employed at Facebook rose from 4.6 to a 4.7 after the IPO.
However, "The Tech Chronicles" smartly draws attention to the fact that the average base salary at Facebook went up from $112,193 to $119,262.
One year after the IPO, Forbes' Nathan Vardi summarizes the status quo of Facebook's stock and compares its trajectory to another major company. Vardi says that Facebook's stock closed on Thursday at $26.13, meaning that the company's shares are now worth 30 percent less than the $38 IPO price.
Comparing Facebook's journey to Apple, Vardi notes that the software behemoth has also discouraged investors in 2013. Apple's shares are down 38 percent since September. Despite this downturn, the public has been able to benefit from Apple's performance over the last ten years while few people have benefited from Facebook's performance.
Would you give Mark Zuckerberg high marks? Why was the company's IPO such a disaster? When will the social media network's share price rise above $38? Have you invested in Facebook? Will there be a Facebook comeback? Share your thoughts and experiences in the comments section.