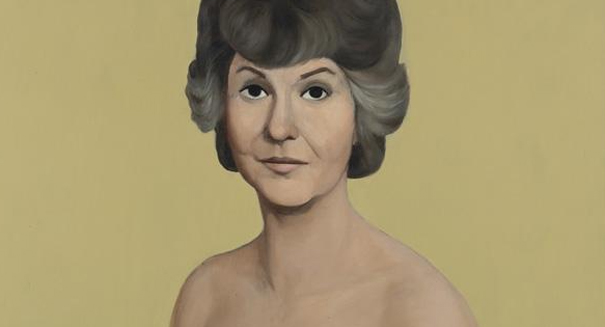 A topless painting brings in big bucks.
The late Bea Arthur will always be remembered for her Emmy-winning roles as the sarcastic Dorothy Zbornak and the outspoken Maude Finlay. Now she will be also known for a painting that showcases her "golden girls."
The New York Daily News reports that the topless painting of the actress, appropriately called "Bea Arthur Naked," sold for almost $2 million at an auction held in NYC on Wednesday. John Currin, who painted the oil-on-canvas work in 1991, was inspired to create the piece that displays Arthur nude from the waist up from a picture he found of her fully-clothed.
"I was going to put a scarf ensemble on her like that from her Maude days, and I drew the body just to drape it," he said, according to the paintings listing on the Christie's auction house website. "It was then that I realized that the painting was fantastic as it was. I loved being repelled by those two black eyes and falling back into these wonderful, soft breasts, which draw you back in."
The auction website even says that the portrait is "simultaneously nostalgic and repelling with its subject matter."
The Los Angeles Times reports that the painting, which was estimated to sell between $1.8 to $2.5 million, was one of a large number of post-war and contemporary art pieces that were auctioned off at Christie's NYC event. The purchase of the Bea Arthur painting helped the auction reach a record $495 million in sales.
While Currin might be known for painting sexually provocative portraits, many of which depict women in suggestive poses or wearing little to no clothing, some think his style shouldn't be tolerated. One such company that feels this way is Facebook, as it restricted social media editors at The Daily Beast from posting to either their company or personal Facebook pages for a 24 hour period after they posted a thumbnail image of the Bea Arthur painting with a link to a story about it. It didn't matter that the portrait isn't an actual depiction of Bea Arthur naked, but rather just an imagined one. The photo was still considered a violation of Facebook's standards and thus was dealt with accordingly.
What do you think of John Currin's painting? Would you pay $2 million for a naked portrait of Bea Arthur? Do you agree with Facebook's decision to temporary ban The Daily Beast editors from posting on their company and personal Facebook pages? Share your thoughts with us in the comments section.