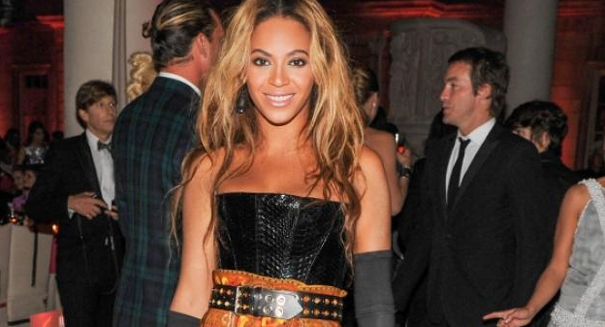 Is Beyonce pregnant?
Just because Beyonce wasn't flaunting a lot of skin at this month's Met Gala doesn't mean she's got something—namely, a baby bump—to hide.
The usually provocative dressing performer, who served as an honorary chair at the star- studded event, showed up wearing a gold and black high-waisted Givenchy gown and corset with matching over-the-knee boots. People immediately began whispering about the possibility that she and husband Jay-Z are just months away from adding to their family, according to the Daily News. The star couple welcomed their first child, Blue Ivy, into their lives 16 months ago. Since then, Beyonce, 31, has admitted in interviews that they would like to give their daughter a sibling. But Daily News sources vehemently denied the pregnancy allegations.
Adding fuel to the rumor fire, some say the former Destiny's Child singer's decision to ban photographers from her latest tour, known as the Mrs. Carter Show World Tour, is further proof that she doesn't want her baby bump to appear on the front cover of every
newspaper in America.
Other conspiracy theorists claim she is just waiting until this year's BET Awards, which will take place on June 30, to issue a formal announcement of her pregnancy. The singer caused a sensation when she revealed she was pregnant with Blue Ivy at the 2011 VMA
Awards. Following a performance, she stood at the microphone and told the audience she wanted them to "feel the love that's growing inside of me." As the crowd went wild, she then unfastened her coat and rubbed her growing belly.
But a second Daily News source and friend of Beyonce's shot down this theory, saying it would make little sense to be pregnant going into the world tour.
It's true the singer, who is on tour in Europe until June, has a hectic schedule. She is set to play 28 shows in the United States and Canada between the months of July and August—all with little Blue Ivy in tow.
Time will tell if the star is really pregnant or just glowing from the joys of motherhood and an unrivaled career.