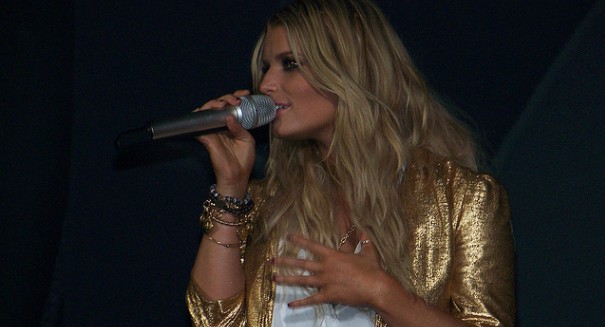 Simpson and Lachey have not spoken in years.
The stars of the MTV reality show Newlyweds, Nick and Jessica, have not spoken to each other in six years, according to Nick Lachey.
Lachey famously married Jessica Simpson, then 32, in 2002. Their reality show showcased and followed the pair's highly-publicized marriage for three seasons. On June 30, 2006, after three and a half years of marriage, the two finalized their divorce. In 2011, Lachey went on to marry television host and actress Vanessa Minnillo, with whom he has a son. Simpson is currently engaged and expecting her second child with Eric Johnson, a former player for the NFL.
A running gag on Newlyweds was Simpson's exaggeratedly (Or was it) naive personality, as exemplified by her confusion in the pilot episode as to whether a can of Chicken of the Sea tuna contained chicken or fish.
Lachey appeared on Bravo's "Watch What Happens Live" alongside his boy band 98 degrees. Responding to a fan question about the last time he saw or spoke to his ex-wife was, the singer said: ""Is this the part where I can plead the Fifth? It's been years, honestly. Yeah, years. Honestly, probably six years. It was like another lifetime ago."
Host Andy Cohen probed on, asking Lachey if he had ever reminisced by curling up and watching old episodes of "Newlyweds: Nick and Jessica" on DVD.
Not surprisingly, Lachey responded, laughing, "I have not. As you can imagine, that's not popular viewing in my house. You know, we don't sit around as a family and watch the old DVDs."
Later on, during a game of "Plead the Fifth," in which celebrities must answer awkward personal questions or choose to invoke the 5th Amendment, Cohen let out another jab.
""What is the best thing about no longer having Joe Simpson as a father-in-law?" Cohen asked.
Before Nick Lachey could answer, his brother Drew, also a member of 98 Degrees, spoke out first: "Can I answer this? Everything!"
But Lachey still chose to come out clean.
"The best thing about not having Joe Simpson anymore as a father-in-law is I don't have to play grab-ass under the table on Easter Sunday," Lachey laughed as Cohen blushed. "It may not be [funny] tomorrow, but it is tonight."