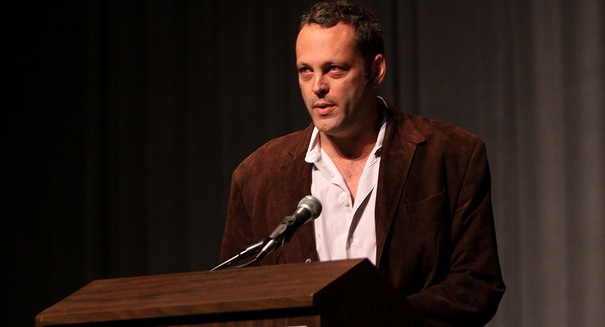 He made the announcement on "The Ellen DeGeneres Show."
Comedian Vince Vaughn is expecting his second child, reports People Magazine. Vaughn made the announcement during an appearance on "The Ellen DeGeneres Show." "We're very excited," Vaughn said in the interview set to air on Monday.
The 43-year-old Vaughn noted that his second child is due August 5th. The comedian married his wife, Kyla Weber, in 2010. Less than a year later, he and Weber welcomed their first daughter, Locklyn Kyla, into their lives. At the time, the "Swingers" star told ET Canada that having a child "gives you a different purpose."
During a previous appearance on "The Ellen DeGeneres Show," Vaughn told Ellen why he decided to finally say goodbye to the carefree life of a single guy and settle down with Kyla. He simply said that Kyla was the "best girl in the world" and that she made him "very happy." According to the New York Daily News, Vaughn previously dated his "The Break-Up" co-star Jennifer Aniston but split with her in 2006.
Vaughn recently hosted NBC's "Saturday Night Live" for the first time in more than 14 years. HitFix's Ryan McGee wrote that the comedian's hosting performance didn't lead to a solid show and that without Andy Samberg or Kristen Wiig, "SNL" has become a "faceless show."
How will life change for "The Internship" star when his second child is born? Are you a fan of Vaughn's movies? What did you think of his job hosting "SNL?" Who was your favorite host this season? Share your thoughts in the comments section.