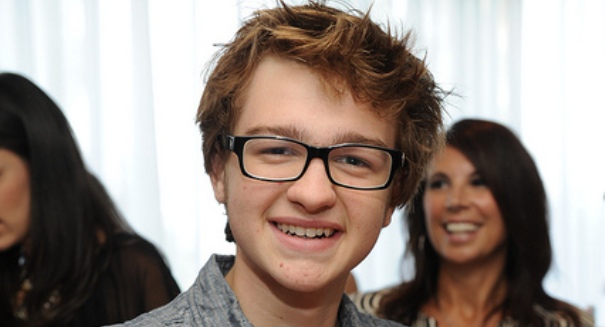 Do you still watch "Two and a Half Men?"
CBS has renewed "Two and a Half Men," but Angus T. Jones will no longer be a regular on the show, according to EW.com's Inside TV. While both Ashton Kutcher and Jon Cryer have agreed to come back for season 11, Warner Bros. is reportedly talking to Jones about a recurring role on the show.
Last November, Jones famously slammed his own show in a video interview with the religious website Forerunner Chronicles. During the interview, Jones referred to "Two and a Half Men" as "filth." He also asked loyal viewers to stop watching his show, adding that he didn't want to be a part of it anymore.
Though the "Two and a Half Men" star issued a statement shortly after the video went viral, it appears that his rant may have prevented him from securing a regular role on the show.
Jones' comments sparked speculation that CBS was going to can the actor before the end of the season, but CBS entertainment president Nina Tassler told reporters earlier this year that the network and the "Half" part of the show had gotten rid of the bad blood between them. She added at the time that Jones has been a "beloved member of the cast" during its multi-season run on CBS.
"Two and a Half Men" has gone through a lot of turmoil in the last few years. In 2011, Hollywood's infamous bad boy Charlie Sheen was fired from the top-rated comedy for engaging in "dangerously self-destructive" behavior. Prior to being let go, Sheen called "Two and a Half Men" producer and co-creator Chuck Lorre a "clown" and a "stupid, stupid little man." Before he was fired, Sheen went on a number of entertaining TV and radio interviews in which he coined the now-famous phrases "winning and "tiger blood."
Kutcher, who had already made his mark on "That 70s Show," was brought in to replace Sheen. At the time of his departure, Sheen was the highest paid actor on TV and it wasn't long before Kutcher demanded an equally high salary. Though he wasn't give as much as Sheen, the Daily Mail reported in August 2012 that the former male model is making $700,000 for each episode of "Two and a Half Men." No word yet on whether he'll be making the same salary during season 11.
According to The Hollywood Reporter, the series is averaging a 4.2 rating among adults 18-49. For the time being, however, Tassler told THR that the network is going season by season and is unwilling to make any predictions about a possible season 12.
Do you still watch "Two and a Half Men?" Was the show better when Sheen played Cryer's TV brother? Why was Jones not renewed as a regular on the show? Should the name of the show be changed to "Two Men?" Share your thoughts in the comments section.