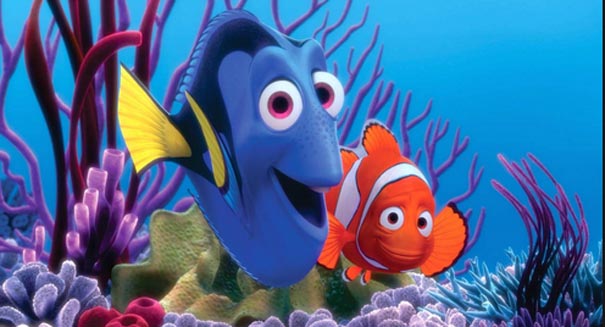 Fans get what they want: an upcoming sequel to Disney's "Finding Nemo."
The follow-up to Disney-Pixar's 2003 smash animated film "Finding Nemo" has acquired both a title and a release date. According to Reuters, Finding Dory will hit theaters on November 25, 2015, just in time for the Thanksgiving holiday.
Fans of the first film will remember Dory as the Ellen DeGeneres-voiced companion to Albert Brooks' Marlin as the two search for Marlin's lost son, Nemo. Audiences reacted strongly to the character, a blue tang fish suffering from memory loss.
"I read the script and it's fantastic," said DeGeneres in a statement released Tuesday. "It's hilarious, it's warm, it's everything that you want it to be."
Andrew Stanton, who directed the first Nemo, will return for the sequel. Taking place a year after the events of the first film and set on the California coastline, he stated the new film would share its predecessor's family-oriented story as Dory searches for her "loved ones" and will learn "a few things about the meaning of family along the way." Other characters from the original, including those from the Tank Gang, are also slated to return.
Of course, audiences who were not so fond of the hyperactive yet forgetful Dory might be less sold on a movie that DeGeneres guarantees has "got a lot more Dory" in it. Not only that, but Finding Nemo is so strongly associated with the little orange title character that fans might react negatively to a Dory-centric film.
Some critics, longing for the originality of past standalone work from the company, have questioned Pixar's recent penchant for returning to established properties. The results have ranged from good (Toy Story 2 has a Rotten Tomatoes Certified Fresh score of 100 percent; Toy Story 3 a 99 percent) to the not so good (Cars 2 is a lowly 38 percent and generally maligned by critics).
Yet "Finding Dory" is in capable hands with Stanton having also directed Best Animated Picture winner WALL-E in 2008. "Finding Nemo" won the Oscar for Best Animated Film in 2004, and both films collectively grossed over a billion dollars worldwide. The film was also nominated for three other Oscars.
The announcement is likely to be a major boost for DeGeneres' movie career. The sequel will represent a shift in focus since the launch of her hit show, the Ellen DeGeneres Show. DeGeneres has appeared in a number of movies, although her voice over in Finding Nemo remains her most successful feature film.
The upcoming sequel's release date received a major boost from DeGeneres, who promoted the movie during her show on Tuesday.
"I have waited for this day for a long, long, long, long, long, long time," said DeGeneres. "I'm not mad it took this long. I know the people at Pixar were busy creating Toy Story 16. But the time they took was worth it. The script is fantastic, and it has everything I loved about the first one. It's got a lot of heart, it's really funny and the best part is — it's got a lot more Dory."
What do you think of think of a Nemo sequel? Are you excited for another full-length film based in the "Finding Nemo" universe? Share your thoughts and comments below.