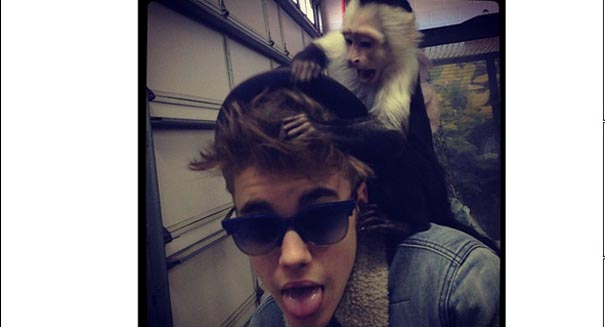 Bieber's monkey. What will happen to it?
What happened to Justin Bieber's pet monkey? That is the question making the rounds online after the pop star's monkey friend was stopped by custom officials in Germany.
While Bieber has been reunited with the monkey, it remains unclear why he came close to facing the wrath of German custom officials on Thursday.
Bieber, who traveled to Munich, Germany, for a show, found himself facing German immigration officials over the weekend. When asked to produce documents for his pet monkey, Bieber said it was a gift and hold officials that he did not have the necessary paperwork. German officials reportedly attempted to resolve the matter, but the lack of proper paperwork eventually forced them to quarantine the monkey as Bieber moved through customs.
"Justin Bieber brought his monkey to Germany, but had no official paperwork with him," said Thomas Meister, spokesman for the customs office at the Franz Josef Strauss Airport in Munich, according to People. "We were forced to confiscate the animal."
The monkey, according to TMZ, is a gift from record producer Mally Mall, who tweeted the above photo earlier in the week. It remains unclear when the monkey was given to Bieber, although this is not the singer's first pet. Bieber reportedly transferred the monkey via his private plane, where German customs officials in Munich discovered the capuchin monkey.
As of now it remains unclear what will happen to the monkey. Bieber made no mention of the incident when he tweeted fans on Friday, writing: "Munich was a good time. And loud. The bus is headed to Vienna now. U coming?"
The pop-star is slated to perform a number of concerts in Europe. He performed a pair of shows in London earlier this week, and he is slated to  travel to Austria later this week, where he will perform.
The incident could cost Bieber more than his friendship with monkey. German officials are said to be considering a fine for the lack of documents and for covering the cost of keeping the monkey in quarantine.
The incident comes as Bieber has faced criticism for his apparent lack of regard for rules. The pop singer may face prosecution for spitting in the face of his neighbor earlier this week. The Los Angeles sheriff is said to be considering referring the matter to local officials. On the performance front, Bieber showed up late for a London concert and was booed by fans. The singer then has a run-in with the paparazzo in which he attempted to attack a cameraman.