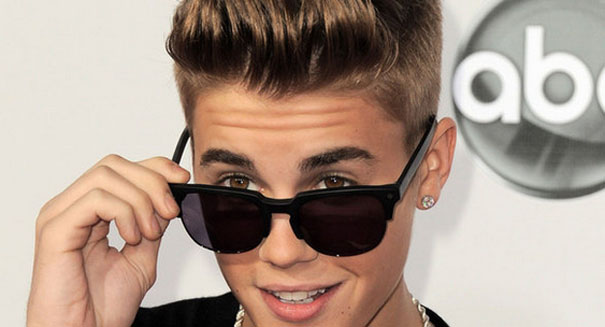 Why was Bieber shirtless at a Polish airport?
Canadian pop star Justin Bieber was photographed walking through security at Wladyslaw Reymont Airport in Lodz after his March 25 concert. This confusing scene is just one of many strange incidents that have taken place during the singer's European tour.
According to the New York Daily News, Bieber removed his shirt before arriving at the airport and didn't put it on again until just before boarding a private jet. The temperature outside the airport at the time was a chilly 14 degrees Fahrenheit.
A spokeswoman for the Polish airport told Reuters that Bieber was not asked to remove his clothes and that he had not set off the metal detector. According to the spokeswoman, Bieber was "probably freezing" because "he's quite skinny."
Perhaps Bieber's most bizarre outing took place in London. According to Us Magazine, the "Boyfriend" singer donned a gas mask while shopping in Londontown and wore it again as he exited Mr. Chow's. A source told the gossip magazine that the gas mask was "a joke" between Bieber and his friends. The singer's close friend, Julian Keyz, also wears the gas mask to pretend he's Bieber.
Of course, the gas mask incident wasn't the only bizarre behavior exhibited by Justin during his European tour. Bieber angered concertgoers at London's  O2 arena after he arrived on stage nearly two hours late. According to CNN, the singer was booed by irate fans who had been waiting for Bieber on a school night.
Bieber's European tour is far from over. In fact, the Daily News notes that the Lodz concert was just the 19th European concert of the singer's "Believe" tour. Bieber's next stop is Munich, Germany.
Why was Bieber shirtless at a Polish airport? Is Bieber's erratic behavior the consequence of being a celebrity or does he actually enjoy the attention? How would you describe his European tour in one word? Share your thoughts in the comments section.