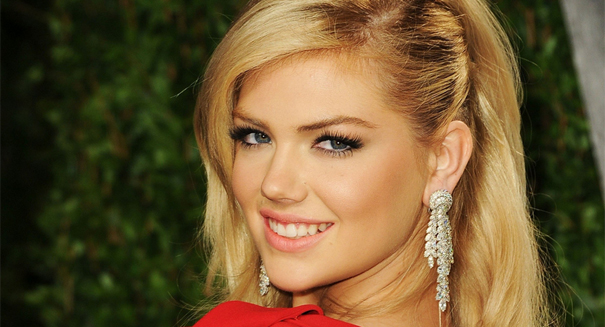 The supermodel tweeted that she's checking her schedule.
It probably took a lot of guts to ask Kate Upton to the prom back in the day, but one Los Angeles high school student thinks he has a chance now that the supermodel has appeared on the cover of Sports Illustrated's Swimsuit Issue for two years running.
With a copy of Upton's Sports Illustrated cover in his hands, Jake Davidson made a video invite (that now has more than 100,000 views on YouTube) for the world famous model. In the video, Davidson can be seen lounging by the pool with his dog, as well as lathering shave cream on his face.
Davidson entertains Upton with a long list of reasons why the model should attend his senior prom on May 23rd, 2013. "You're the ying to my yang, I'm Jewish, 5'9 on a really good day – and I can't dance at all.You're Christian, 5'10, and that Cat Daddy video should have won an Oscar for best short film – you could say this is destiny," Davidson says in the video.
Apparently, Kate isn't completely opposed to the idea. "You can call me Katie if you want! How could I turn down that video! I'll check my schedule," she tweeted shortly after Davidson's video made news headlines.
This isn't the first time that a high school student has invited a famous face to his or her prom.
In 2012, country star Taylor Swift was invited to a cancer patient's prom. While she declined his invitation because of her busy schedule, Swift's representative called high school student Devin Whitney's family and praised the cancer patient for his courage.
In 2011, "That 70s Show" star Mila Kunis was invited by Sgt. Scott Moore to his Marine Corps Ball in Greenville, North Carolina. Kunis graciously accepted the invitation and Moore told ABC's "Good Morning America" co-host Robin Roberts that "it was a blast, it was a great time."
This probably isn't the first nor will it be the last time that Upton or any of these other ladies are invited to someone's high school prom.
Will Upton be able to clear her schedule for this wishful high school student? Would you invite Upton to your high school prom? If not, who would you invite? Share your thoughts in the comments section.