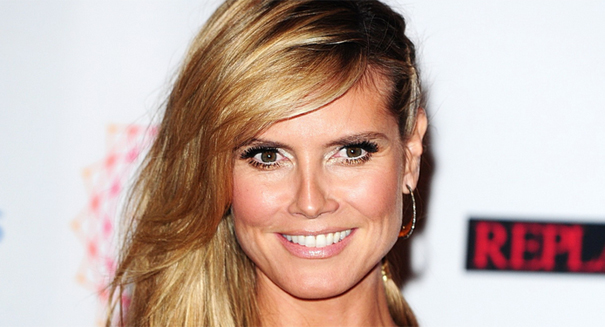 Klum's dress was reminiscent of singer Jennifer Lopez's 2000 Grammy Awards dress.
Supermodel Heidi Klum stunned guests at Elton John's Oscar party by wearing an ultra-revealing Julien Macdonald gown. Though the dress' neckline appeared to plunge about as much as neckline could plunge, Klum recently told E! Online that she had to close the gown "about three or four inches" before leaving for Elton's party.
Speaking to E! Online at the Heidi Klum for New Balance launch at Lady Foot Locker in California, Klum said that the dress' slit was originally all the way down to her belly button. She admitted that she sewed up the dress several inches because she was worried about having a wardrobe malfunction. The mother of four also remarked that the gown's designer may not have been happy with her decision, but that the dress "needed" to be closed up.
Klum's dress was reminiscent of singer Jennifer Lopez's 2000 Grammy Awards dress. According to the February 2013 issue of Harper's Bazaar, Lopez said that the green and blue print Versace gown is still at her house. One wonders where Klum's cleavage-bearing Oscar dress will be in 13 years?
Besides looking good in a plunging gold Julien Macdonald gown, Klum recently paid tribute to 1967's "The Graduate" in a sexy new Carl's Jr. ad. According to the New York Daily News, the 39-year-old "Project Runway" host appears in a commercial to promote the burger chain's Jim Beam Bourbon Burger. The Daily News says that Klum, who wears a silky black dress, seduces a young man with a juicy looking burger.
Is Klum's Carl's Jr. ad the sexiest food advertisement of all time? The jury is still out on that one, but Klum isn't the first model or celebrity to appear in a food commercial. Complex.com lists what it thinks are the nine sexiest food commercials of all time, including a Carl's Jr. ad featuring Paris Hilton that was banned from TV and one for Hardee's Monster Western Bacon Thickburger featuring Padma Lakshmi.
Is Klum a good role model for women? Which dress was more scandalous: The dress Klum worse to Elton John's 2013 Oscar party and the gown that Lopez wore to the 2000 Grammy Awards? Share your thoughts in the comments section.