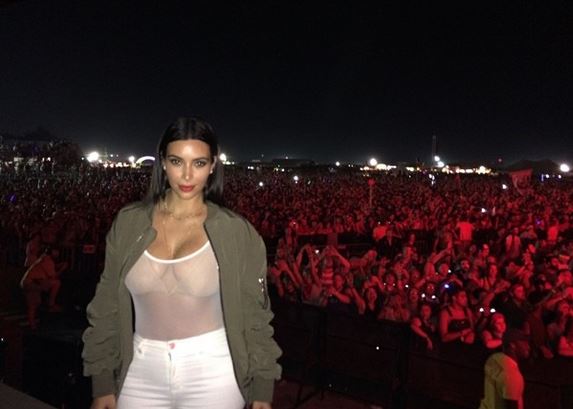 "Oh my God. I will never get a facelift if it feels like that," Kim screamed during Sunday night's episode of "Kourtney and Kim Take Miami.
Kim Kardashian got a bloody "vampire" facial on the Sunday night episode of "Kourtney and Kim Take Miami."
The New York Times' Catherine Saint Louis wrote about "vampire" facials in 2011. Though sometimes referred to as a "vampire face-lift," Louis notes that the procedure is not a surgery, but an in-office procedure. During the facial, blood is taken from the arm, spun in a centrifuge to separate the blood components, then re-inserted into the face with needles.
Louis notes that "vampire" facials have been promoted on "The Rachel Ray Show" and "The Doctors." Will they become more popular now that a Kardashian has tried one?
Before jumping on a phone to schedule an appointment with a "vampire" facials expert, consider how much pain Kim endured to try and make her face look younger. During Sunday night's episode, Kim can be heard crying in pain while her friend Jonathan Cheban watches.
"Oh my God. I will never get a facelift if it feels like that," screamed Kim. However, Kardashian later tweeted, "all good," and posted a photo of her face post-procedure to Instagram.
Though the idea of having one's own blood re-inserted into the face may be nauseating to the uninitiated, Louis writes that some patients like the idea of using their own blood instead of a neurotoxin or synthetic filler to look younger.
For the time being, Kim looks more like a monster than a "younger" version of herself. If it doesn't work out, Kim can blame Jonathan, as Cinema Blend notes that she got the "vampire" facial because of her best friend's advice.
This isn't the first time that Kim's body has been the center of attention on one of her many reality TV shows. In 2011, the reality TV star decided to prove once and for all that her butt is real. Kim verified the authenticity of her moneymaker by getting an X-ray on "Keeping Up with the Kardashians." Turns out, her butt is the real deal.
Would you ever get a "vampire" facial? Did Kim do this for the ratings or because she thought it would really help her skin? Share your thoughts in the comments section.