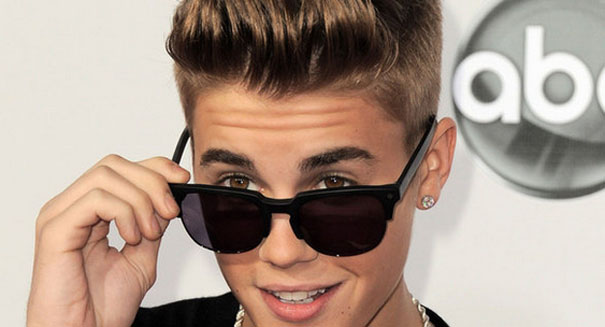 Justin Bieber received a custom MV Agusta Bieber Bat Bike from his dad.
Canadian pop star Justin Bieber may have had the "worst birthday" ever, but he still received one of the coolest birthday gifts a 19-year-old kid can get: A custom MV Agusta Bieber Bat Bike from his dad, Jeremy Bieber.
According to a video the elder Bieber posted to YouTube, the "bat bike" is exactly what you get "somebody who's got everything." The black motorbike includes several custom features, including the number six, which is apparently the singer's hockey number, and 35 million followers for the number of followers he's accumulated since joining Twitter. In addition to a bat symbol on the bike's seat, the singer's initials have also been added to his fancy new birthday gift.
Most 19-year-old kids would be thrilled at the thought of receiving a "bat bike" for their birthday, but Bieber's birthday took a turn for the worse when he decided to celebrate his special day with friends at a London nightclub on Friday. Prior to his night of clubbing, Bieber had performed in Birmingham, England.
"Big night ahead," the megastar tweeted Friday morning. However, several hours later the singer's mood had soured. "Worst birthday," Bieber tweeted.
According to MTV News, Bieber's party ended abruptly when the singer's entourage butted heads with bouncers at London's Cirque du Soir nightclub. As a result of the confrontation, Bieber and his group left the club.
E! Online reports that bouncers at Cirque du Soir had refused to let several members of Bieber's group enter the nightclub because they appeared to be underage. One of the party goers that was refused entry is reported to be Will Smith's son, Jaden Smith.
Bieber, however, is telling a different story. The singer wrote on Instagram that club gave the press "another reason to why we didn't stay at their weak ass club so they wouldn't look bad for me walking in and right back out." He added that Will would never let his 14-year-old son in a club.
Does Bieber deserve a "bat bike" for his birthday? Did Bieber have a good reason to "vent" about his birthday? Are you tired of hearing about Bieber's exploits? Share your thoughts in the comments section.