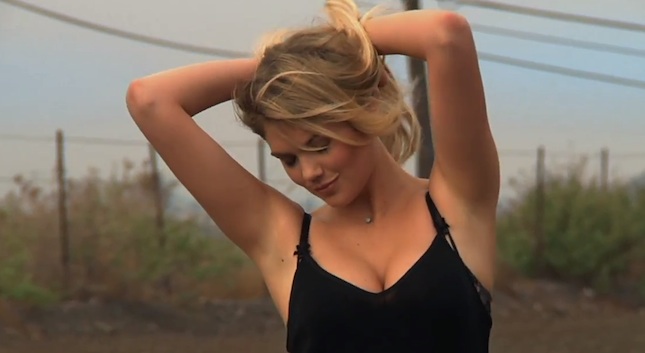 Kate Upton also says she's not dating Detroit Tigers' Justin Verlander.
Kate Upton recently appeared on the cover of Sports Illustrated's Swimsuit edition for the second year in a row, becoming the first model to do so since Tyra Banks in 1996 and 1997. Upton's cover shoot for SI's Swimsuit edition took place in chilly Antarctica.
During a conference call with reporters on Thursday, the supermodel had some rather sage advice for anyone thinking about visiting Antarctica in the near future.
"Keep your clothes on," Upton warned.
Upton had good reason to be cold, as she barely wore anything on Earth's southernmost continent. The 2013 Sports Illustrated Swimsuit edition featured Upton in white bikini bottoms and a fir-trimmed jacket with nothing on underneath.
The Florida native recently told PEOPLE that the cover shoot for SI's Swimsuit edition was "pretty painful." In fact, Upton opined that the ordeal was the "hardest shoot" she has ever done.
Swimsuit edition editor MJ Day told PEOPLE that despite the difficulty of shooting in Antarctica's frigid temperatures, the pictured turned out "perfect." He added that the picture is "different" from what Swimsuit edition photographers have done in the past.
A good deal of the continent is a high, plateau of ice covered in snow throughout the year, according to the South Pole Neutrino Observatory at the University of Wisconsin-Madison. The snow reflects the sun's solar radiation, and this fact combined with the altitude makes the interior of Antarctica the coldest place on Earth.
The South Pole Neutrino Observatory notes that the coldest temperature ever recorded in Antarctica was -128.6 degrees Fahrenheit. The warmest temperature ever recorded at the South Pole was still well below freezing at 9.9 degrees Fahrenheit.
In other Upton news, despite rumors that the buxom blonde was dating baseball star Justin Verlander, the supermodel recently told FOX 2 Detroit that she's single.
Would you take your clothes off in Antarctica? Do you think Upton will appear on the cover of SI's Swimsuit edition for a third time? Would you date Upton? Share your thoughts in the comments section.