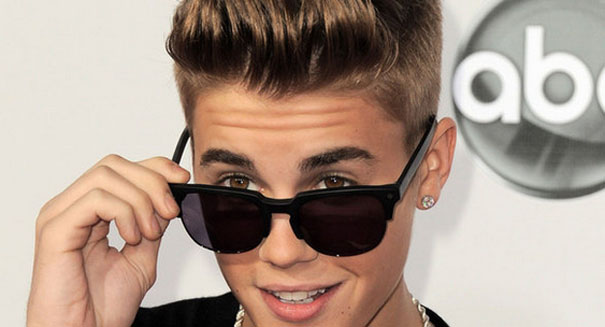 Did just Justin Bieber assault someone with a Nerf gun?
Singer Justin Bieber is under investigation by the Canadian police for allegedly assaulting someone with a Nerf gun, according to TMZ. The gossip website reports that the "Boyfriend" singer was in Canada back in November when a female worker at the place where he was singing filed a police report, alleging that the pop star or someone nearby assaulted her with a Nerf gun.
The woman reportedly told police that she was struck by something while at work. And that something, sources tell TMZ, was a badly aimed dart from a child's Nerf gun. Bieber was reportedly having a Nerf fight with his younger brother and sister when one of the darts went of course and struck the woman.
According to TMZ, the angry worker told Bieber's entourage that she was a security guard for place and wouldn't let this go. She filed a police report and the Canadian police are actually conducting a follow-up investigation. According to the website, they've already interviewed some people about the incident.
This report comes as Bieber's former body guard is suing the singer for assault and battery and lost wages after a backstage incident where the Canadian pop star allegedly got upset and punched him repeatedly in the chest and then canned him. According to the complaint, a copy of which was obtained by E! News, Moshe Benabou says he's owed more than $400,000 in unpaid wages, unspecified damages and court costs.
"Justin Bieber, egged on by a small group of his 'companions,' launched an abusive tirade against Moshe Benabou," reads the complaint, according to E! News. "The tirade was apparently triggered by what Justin Bieber perceived as an attempt by Moshe Benabou to keep one member of Mr. Bieber's entourage physically away from Justin Bieber. As part of his tirade, Justin Bieber repeatedly punched [the plaintiff] in the chest and upper body area."
The alleged Nerf gun incident and lawsuit come as Bieber tries to deal with a string of unpleasant incidents, including photos showing him holding a blunt shortly after the New Year, fallout from a paparazzo who was killed by an oncoming car while trying to photograph his Ferrari (the paparazzo claims he saw Bieber smoking weed in the car earlier) and his recent split from Selena Gomez. 
Is this an incident that Canadian police should be taking seriously? If a dart from a Nerf gun fight between Bieber and his siblings actually struck this woman should Bieber be held responsible? Don't the Canadian police have anything better to do? Sound off in the comments section.