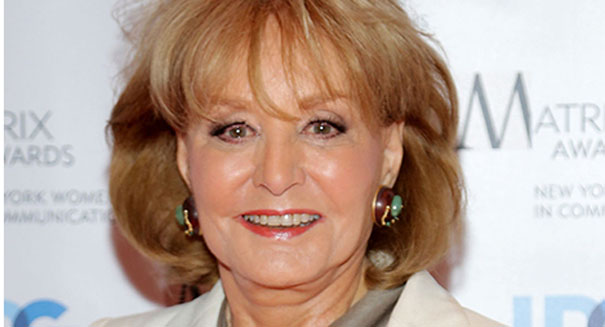 Walters trips, falls.
ABC News's Barbara Walters was reportedly hospitalized early Sunday, after sustaining a fall during a party at the British ambassador's residency in Washington, D.C.
Walters, who is in D.C. covering President Barack Obama's second inauguration, reportedly sustained a cut to her forehead. Walters, 83, fell after missing a step at the residence of Britain's ambassador to the United States, said Peter Westmacott, and ABC News spokesman. Additional reports from The Associated Press noted that Walters was alert and talking.
Walters then went to a hospital for treatment of the cut and for a full examination, according to ABC. It remains unclear whether the famed news correspondent will be on air Monday.
Walters has spent the past two decades as co-host and correspondent for ABC's news magazine show 20/20. She still reports on occasion. Since 1997, she has been co-host of ABC's daytime talk show The View.
Walters has spent the past several decades reporting a number of major news stories. The correspondent held the first interview with Monica Lewinsky in 1999, the first sit-down with Al Gore after his narrow defeat in the 2000 election, and landed a rare hour-long primetime interview with Cuba's Fidel Castro.
Walters is in Washington, D.C., to cover President Obama's second inauguration on Tuesday. It remains unclear who will replace Walters, who has interviewed the president on numerous occasions and is seen as one of television's top analysts.
Walters was last hospitalized in May 2010, when she underwent open heart surgery to replace a faulty heart valve. She returned to work four months later.