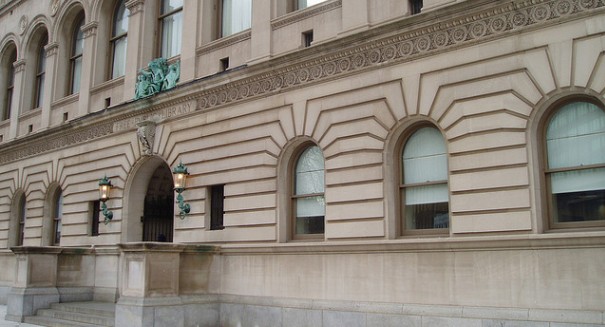 Newark library displays a previously shrouded drawing of slave having sex with white man.
The Newark Public Library has uncovered a previously shrouded drawing of a slave having sex with a white man, according to The Associated Press. The drawing was first covered up after workers found it to be inappropriate.
The AP notes that the artist, Kara Walker, created a drawing that displays the challenges that many blacks dealt with after the Civil War and during reconstruction. The drawing includes an illustration of a black female slave performing oral sex on a white man. The drawing also depicts members of the Ku Klux Klan.
 According to The Star-Ledger, the drawing was covered up a day after being hung in the second-floor reference room of the Newark library due to complaints from workers. Library director Wilma Grey told the newspaper that the drawing was covered up reluctantly, but that the library did so so officials could decided what to do about the drawing.
Scott London, the man who loaned the drawing to the Newark library, was confused by the controversy.
"I thought we were past that," he told the newspaper. "I was surprised."
"The library should be a safe harbor for controversies of all types, and those controversies can be dealt with in the context of what is known about art, about literature, democracy and freedom," Clement A. Price, a library trustee and Rutgers history professor, told The Star-Ledger. "There's no better venue in Newark where such a powerful and potential controversial drawing should be mounted."
This is not the first time that the library has had to deal with controversy over the artwork it has chosen to display. The Star-Ledger notes that the Newark Library covered a mural that was considered offensive in the 1950s. The mural, created by R.H. Ives Gammell, displayed male nudity. "The Fountain of Knowledge" remained sheathed for 35 years until it was displayed again in the 1980s.
Price admitted that the subject matter depicted in the recently-uncovered drawing is controversial.
"Should we be depicted sentimentally, romantically?" he said. "Should some of the grotesque realities be depicted in art or movies?"
Officials often deal with controversial artwork by removing it from public view. A controversial painting of the Queen of England was once banned from Liverpool town hall because her neck was "too long." The piece of art, which was banished for 60 years, will now be displayed in the city's St George's Hall.
Was the Newark library's decision to uncover the controversial drawing the right one? If not, is there an appropriate place for this type of artwork to be displayed? Sound off in the comments section.