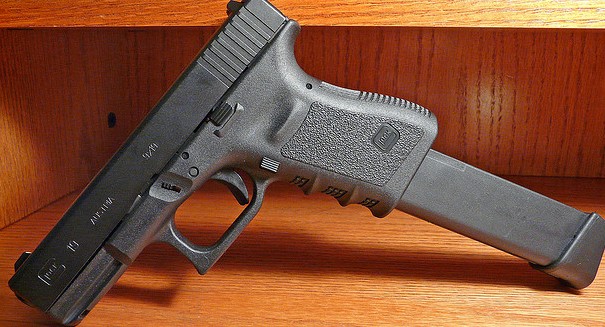 James Holmes posed with guns before shooting, according to a report.
Reuters reports that accused Colorado shooter James Holmes posed with guns before the theater massacre. According to police, Holmes used an iPhone to take self-portraits of himself posing with firearms and body armor before he shot and killed 12 people and injured 58 at a midnight showing of the "Dark Knight Rises" in Aurora, Colorado on July 20, 2012. The presentation of this evidence reportedly ended prosecutors' three-day effort to explain why Holmes should be put on trial.
According to Reuters, Aurora police Sergeant Matthew Fyles showed pictures Holmes took of himself approximately before the theater massacre at the Century 16 multiplex in Aurora. Holmes was seen holding the muzzle of a handgun close to his face in one photo, while in another photo he can be seen sticking out his tongue. Holmes' dyed red hair was reportedly visible in both pictures. Another picture showed his bed covered with guns, a gas mask and other items that he eventually used during the assault.
According to witnesses called forth by the prosecution, Holmes began gathering an arsenal of weapons in early May 2012 and by July 6 he had collected two semi-automatic pistols, a shotgun, a semi-automatic rifle, 6,200 rounds of ammunition and high-capacity magazines. By the end of June, the accused Colorado shooter also started obtaining a helmet, gas mask and body armor for the massacre. By early July, Holmes started purchasing fuses, gunpowder, chemicals and electronics so he could booby-trap his apartment.
On Monday, Aurora police officers testified about the bloody scene that greeted them when they first arrived at the Century 16 multiplex. Aurora police Officer Justin Grizzle, a 13-year veteran, had trouble controlling his emotions as he described his experience on July 20, 2012.
Grizzle described his efforts to take severely injured victims to the hospital in his police car, including shooting victim Ashley Moser and her husband, who pleaded with the police officer for him to go back into the theater.
"He was shot in the head somewhere. He kept asking where his daughter was," said Grizzle, wiping away tears, according to CNN. "He opened the door and tried to jump out."
If the accused Colorado shooter is ruled incompetent to stand trial, the pretrial hearing will probably be the only opportunity for victims to hear what really happened that night, perhaps getting some sense of closure. For one victim, however, it doesn't matter if Holmes goes to trial or not, as long as "he doesn't see the light of day again."
"I obviously don't want him to walk, but as long as he doesn't see the light of day again, it doesn't really much concern me beyond that," Stephen Barton, who suffered wounds on his face, neck and upper torso in the "Dark Knight Rises" shooting, told CNN. "To me, I see the trial as being an opportunity to learn more about what happened that night beyond just my own personal recollection."
Another person, whose son Alex was one of the victims of the Aurora shooting, told The Associated Press that he'd like to see Holmes plead guilty to first-degree murder so that the case never has to go to trial. If Holmes is found not guilty by reason of insanity, there's always that chance that he could be released someday if he is thought to have recovered enough as to no longer be a threat to society.
"Don't pretend he's crazy," Tom Teves told The AP Wednesday. "He's not crazy. He's no more crazy than you and I."
Holmes is charged with 166 counts of murder, attempted murder and weapons charges.