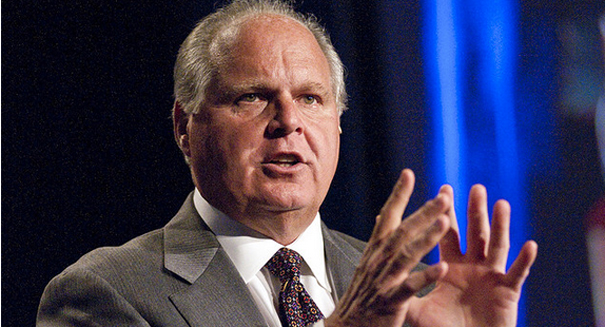 Rush Limbaugh slams Current TV's sale to Al Jazeera.
Rush Limbaugh slammed Current TV's sale to Al Jazeera last Thursday. Speaking on his radio show, Limbaugh said that Burqas and veils 'might help' the ratings for Current TV under its new ownership.
"Does this mean that Joy Behar and Jennifer Granholm are now going to have to wear burqas and veils over their faces?" Limbaugh asked his radio audience. "If they do it might help, actually, to raise audience levels. Burqas and veils on their faces—it could help! Never know."
Al Jazeera announced last Wednesday that it had acquired Current TV.
"For many years, we understood that we could make a positive contribution to the news and information available in and about the United States and what we are announcing today will help us achieve that goal," said Al Jazeera Director General Ahmed bin Jassim Al Thani in a statement. "By acquiring Current TV, Al Jazeera will significantly expand our existing distribution footprint in the U.S., as well as increase our newsgathering and reporting efforts in America. We look forward to working together with our new cable and satellite partners to serve our new audiences across the U.S. I am both exceptionally pleased and very proud that we could take this very important step."
According to Media Decoder's Brian Seltzer, Al Gore, who owned 20 percent of Current TV, made approximately $100 million on the purchase.
While he admitted that has never watched Al Jazeera, Limbaugh criticized the former vice president for finishing the deal before the end of the year to pay less in taxes.
"See all of these Democrats that talk about the moral value of paying higher taxes, when presented the option, never do it. They always go for the lowest," the conservative commentator said.
Not only was Gore under fire from conservatives for completing the deal before the end of the year, he also was severely criticized by Jewish leaders for selling to Al Jazeera.
"Al-Jazeera has a troubling record and history that is very disturbing, particularly in its Arabic language broadcasts," said Abe Foxman, head of the Anti-Defamation League, in a statement from the organization Friday. "It has exploited and exaggerated the Arab-Israel conflict in a heavy-handed and propagandistic manner, and always at the expense of Israel, while giving all manner of virulent anti-Israel and even anti-Semitic extremists access to its airwave."
What kind of changes will Al Jazeera make to Current TV? Are Limbaugh and fellow conservatives right to criticize Gore for finishing the deal before taxes were raised on the rich? Sound off in the comments section.