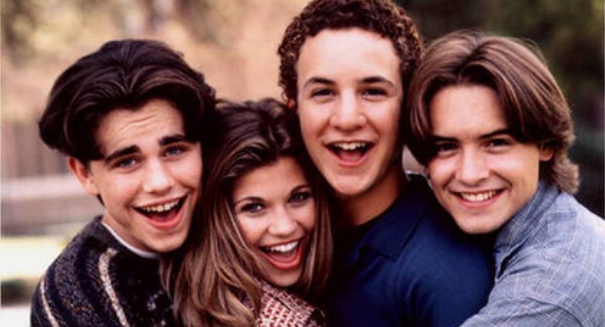 Danielle Fishel graduates from college.
"Boy Meets World" star Danielle Fishel, the actress who played Topanga on the hit TV show in the 1990s, has graduated from college, according to her Tumblr. Not only did she graduate with a degree in psychology from California State University, Ms. Fishel also found a husband. Contactmusic.com reports that the "Boy Meets World" star recently got engaged to her college sweetheart.
Graduating from college has be a long-time dream of hers, but the fear that she wouldn't be able to remember simple math equations kept her from pursuing this dream for many years.
"I went back to school 4 years ago at 27 years old," Ms. Fishel writes on her Tumbler. "I had attempted to go a couple times before then, even going so far as to take my placement exams and sign up for classes, but I could never follow through and actually go."
Ms. Fishel eventually conquered her fears and returned to college.
"I was sometimes the oldest person in class, I was whispered about many times, and I did forget how to do a few math equations," she adds. "But I persevered and sometimes I wasn't the oldest person in class, some of the whisperers became good friends, and I did so well in math, I even became a tutor."
The "Boy Meets World" actress actually met her future husband while tutoring math.
After graduating from college, Ms. Fishel will reprise her role as "Topanga" on a modern-day version of "Boy Meets World," called "Girl Meets World." Her co-star on the original TV show, Ben Savage, has also signed on to reprise his role as Corey in the new show based on Cory and Topanga's daughter, Riley.
There are fans, however, that have criticized the decision to update "Boy Meets World," citing fears that the show will lose some of its innocence and honesty.
"Those years were among the most warm, hilarious, insightful, educational years of my life and I wouldn't trade them for the world," Ms. Fishel on her Tumblr. "Another thing I wouldn't trade for anything is the integrity and the heart with which BMW was made.  I promise with the entirety of my heart that we will make GMW with the same honesty, innocence, and intelligence that you learned to expect from BMW."
Anyone who grew up in the 1990s and watched "Boy Meets World" remembers how innocently the show approached any number of delicate issues. Here's to hoping that the new show is the same way.