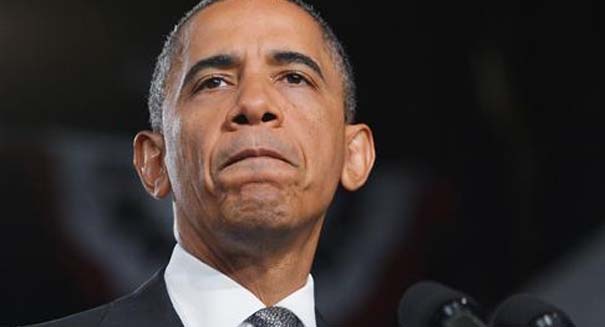 Obama responds to shooting.
President Barack Obama reacted to Friday's school shooting in Newtown, Connecticut, offering a heartfelt and emotional statement at the White House.
"As a country we have been through this too many times. Whether it is an elementary school in Newtown, or a shopping mall in Oregon, or a temple in Wisconsin, or a movie theater in Aurora, or a street corner in Chicago — these neighborhoods are our neighborhoods, and these children are our children," he said in a press briefing at the White House. "We're going to have to come together to meaningful action on this, regardless of the politics."
"I know there's not a parent in America who doesn't feel the same overwhelming grief that I do," Obama added.
The suspected shooter in Newtown has been identified by CNN and other media as Ryan Lanza, a male in his 20s. According to reports, the shooting left close to 30 dead, including between 18 and 20 children, although it remains unclear exactly how many are dead.
Lt. J. Paul Vance, a spokesman for the Connecticut State Police, confirmed the shooter was dead inside the school but declined to provide details on casualties, saying the priority was to first inform family members. A federal law-enforcement official said a .223 Bushmaster rifle was found in the back of a vehicle at the scene. Two firearms were recovered near the alleged gunman's body, said law enforcement officials.
Connecticut Govenror Dannel Malloy also spoke at the news conference. The Connecticut Democrat said state officials would work to better understand the details of the incident.
"Earlier today, a tragedy of unspeakable terms played itself out in this community. You can never be prepared for this kind of incident. What has happened will leave a mark on this community. The perpetrator is dead, as is the person the perpetrator lived with."
The incident – which would be one of the worst school shootings in U.S. history – is the latest in a series of mass shootings in the U.S. this year, including Tuesday's assault by a lone gunman at a Portland, Oregon, shopping mall that left two dead and one wounded.