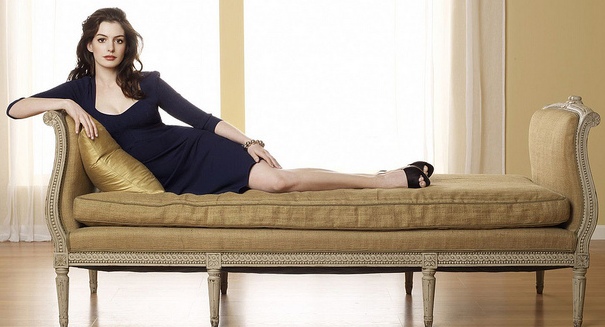 Hathaway unwittingly flashes photographers at the premiers of "Les Miserables."
It turns out that singer Janet Jackson and Oscar-nominated actress Anne Hathaway have something in common: They have both experienced the embarrassment of a wardrobe malfunction. Although Ms. Jackson's moment took place onstage at the Super Bowl, Ms. Hathaway's wardrobe malfunction might be considered a little more intimate. Exiting her car at the "Les Miserables" premiere at the Ziegfeld Theatre in New York City, photographers snapped photos of the actress without panties.
The no-panties photos quickly appeared with and without censoring on numerous entertainment websites. According to Radar Online, Ms. Hathaway was wearing a long black Tom Ford dress and bondage style stilettos. Mr. Ford reportedly made the actress' shoes with vegan leather because Ms. Hathaway does not wear or eat animal products.
According to the Daily Mail, Ms. Hathaway was allegedly overheard telling Vanity Fair's Ingrid Sischy at a luncheon Tuesday how photographers managed to snap no-panties photos of her. "I was getting out of the car and my dress was so tight that I didn't realize it until I saw all the photographers' flashes," she said. "It was devastating. They saw everything. I might as well have lifted up my skirt for them."
While the internet may have been abuzz with Ms. Hathaway's wardrobe malfunction, the actress told Matt Lauer on the "Today" show that the whole experience was an "unfortunate incident."
"It was obviously an unfortunate incident [and] it kind of made me sad that we live in an age when someone takes a pic of you in a vulnerable moment and sells it rather than deletes it," Ms. Hathaway said Wednesday morning.
"I'm sorry that we live in a culture that commodifies unwilling participants," she added about the internet's obsession with nude celebrity photos. "It makes me think about the character I play in Les Mis actually. She is someone who is forced to sell sex to benefit her child, so let's get back to Les Mis."
Paris Hilton, Britney Spears and Lindsay Lohan have also had photos snapped of their nether regions as they exited vehicles. While "Anne Hathaway no panties" was not exactly what the actress was hoping people would be searching for right after the premiere of "Les Miserables," the actress' embarrassment over her wardrobe malfunction, also known as the "Full Hathaway-gate," may reminder her not to forget her panties at home next time she attends the premiere of one of her movies.