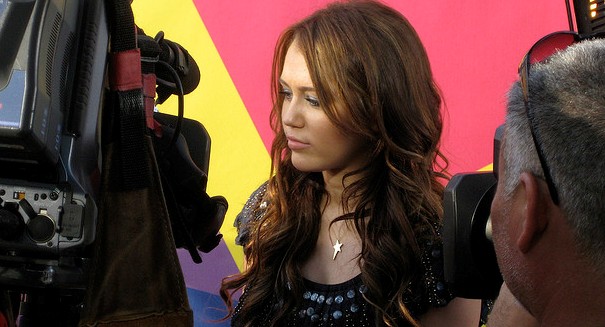 Miley Cyrus performs with Israeli dubstep DJ Borgore in Los Angeles.
Singer Miley Cyrus joined Israeli dubstep DJ Borgore in Los Angeles Saturday night for a performance in front of a sold-out crowd at the Music Box, according to Rolling Stone. Ms. Cyrus may have taken the stage in what could be one of her most risqué performances to date. The singer, sporting her buzz cut, reportedly wore skin-tight pants and snakeskin boots and a top that left little to the imagination.
USA Today reports that during her performance, Ms. Cyrus danced right alongside several topless strippers in g-strings. Although she was not topless, Ms. Cyrus' outfit was the perfect fit for Borgore's "Christmas Creampies" concert.
Borgore knew that he needed something special for the performance of his new single "Decisions."
"This is the bigger show and we wanted it to be special," Borgore told Rolling Stone. The Israeli dubstep DJ knew that his fans would be pleased to see Ms. Cyrus perform onstage with him.
"I feel like the second I go on the mic and there's another person on the mic, it goes extremely well. The kids in the electronic area don't get to see this shit anymore, all they get to see is just DJs raising their hands up, being DJs," he said. "And putting more of a live feel to a show, two people on the mike singing, it just feels great. I think tonight is gonna go off.  I'm really excited about this."
Borgore told Rolling Stone that he is working with several other musicians in the studio but he is not yet ready to reveal their names.
"I really like to announce stuff after the song is done. A lot of times you work with people, sounds great, but it doesn't come out and you make a fool of yourself," he said. "The fact that you can meet with all these people, see how all these people work, I have a different person in the studio every day. I had a lot of people I really admire in my studio already."
MTV.com reports that Ms. Cyrus appeared alongside Borgore in a video for "Decisions" back in November. At the time of its release, the video sparked a bit of controversy for the former Disney star because she appeared in the music video with porn star Jessie Andrews.
According to US Magazine, however, the singer is also working on her next album. Pharrell and Mac Miller are reportedly working with Ms. Cyrus to improve her next offering to her fans.