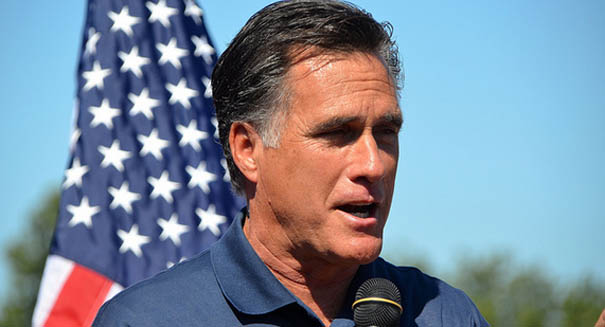 Romney is spotted all over California.
Former Republican presidential Mitt Romney is reportedly returning to post-presidential campaign life. The Massachusetts Republican, who lost his bid for president to President Barack Obama, was spotted in California throughout the week, taking in a movie with his wife, pumping gas, and going to Disneyland with his grandchildren.
A number of Instagram users snapped shots of the former Republican presidential nominee as he rode the Matterhorn and other attractions at the California theme park. The former Massachusetts governor visited the theme park with his family, including his wife, Anne.
"Just sat right next to Mitt Romney and his family at Disneyland!" one person tweeted after running into the former presidential candidatem
The former Republican nominee has also been seen out with his wife catching the latest installment of the Twilight saga in Del Mar, California. A photo of Mr. Romney pumping gas at a nearby gas station was later snapped by a Reddit users, who posted the photo to the online forum.
"Life sure is strange. One minute you're this close to becoming the Leader of the Free World, surrounded by Secret Service, spinmeisters, fawning coatholders and Donald Trump. The next, you're pumping your own gas at a Chevron station, looking disheveled and disheartened," the user posted under the photo. "Say hello to ex-Gov. Mitt Romney, who was snapped by a local as he filled up the tank in his new hometown of La Jolla, California"
The various reports of Mr. Romney likely come as a bit of surprise to anyone following politics over the past several months. The former Massachusetts governor was widely portrayed as out of touch with average voters. Mr. Romney, whose net-worth is estimated to exceed $250 million, never seemed entirely comfortable with voters; the Republican presidential candidate was criticized for a number of remarks, including an offer to bet Texas Governor Rick Perry $10,000.
Mr. Romney's time outside of the political limelight comes just days after the former Republican presidential candidate was lambasted by fellow conservatives, following a controversial remark concerning Mr. Obama's victory. Speaking in a conference call with supporters, Mr. Romney said Mr. Obama had won Tuesday's election by offering "gifts" to supporters.