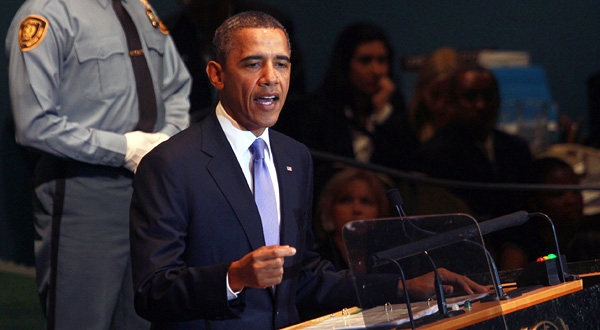 Damian Lewis makes Obama Muslim joke.
President Barack Obama is a big fan of Showtime's "Homeland," according to an interview he and First Lady Michelle Obama did with People Magazine. In fact, the president is such a big fan that he requested a signed box set.
"Amazingly, really, because of the success of the show, I was invited to the White House for dinner. I expected to be sat next to the toilets, and I ended up being at his table sitting opposite," Damian Lewis told British TV host Jonathan Ross. Mr. Lewis plays  Nicholas Brody, a U.S. Marine, who was turned by Al Qaeda during eight years as a POW. Mr. Lewis' character is a convert to Islam.
Mr. Lewis said that he and co-star Claire Danes were happy to send President Obama a signed DVD set of the show.
"Claire Danes had written something really lovely and sweet saying, 'I was a fan of yours long before you were a fan of ours,'" Mr. Lewis said. The "Homeland" star decided to write something comical along with his signature. "I went, 'From one Muslim to another' in an indelible Sharpie. I couldn't take it back."
Afterwards, the actor was nervous that the president wouldn't get the joke.
"I was writing emails for the whole of the next week going, 'I do hope he understands irony,'" Mr. Lewis said.
While Mr. Lewis was joking when he called President Obama a Muslim, there are quite a few voters who incorrectly believe that the former Illinois senator is really a Muslim. According to a poll released in July by the Pew Forum on Religion and Public Life, 17 percent of registered voters still think that Mr. Obama is a Muslim.
The poll revealed that 49 percent correctly believe that he is a Christian, while 31 percent of participants said they did not know what religion he is. The poll also revealed that respondents who said that he is a Christian were more comfortable with his religion than those who said he is Muslim. Eighty-two percent of respondents who said that he is a Christian were comfortable with his religion, while 65 percent of respondents who said that he is a Muslim were uncomfortable with his religion.