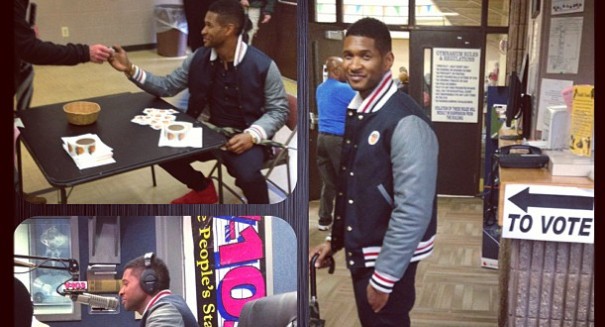 Georgia election officials allowed Usher to skip the long lines on election day.
Many voters waited in line for hours on election day. In Miami-Dade County, voters stood in line for as long as four hours, according to the Miami-Dade County Election Department. One person, however, didn't have to wait in line at all on election day. Usher, according to reports, was escorted to the front of the line by Georgia election officials when he arrived to vote in person on election day.
Usher, also known as Usher Raymond IV, voted for President Barack Obama, according to his Twitter account. "I voted for FORWARD movement," he tweeted on November 6.
Voter Alan Christian told local affiliate WSB-TV that he was extremely disappointed in the decision to allow Usher to skip to the front of the line. "I take the voting process very seriously, and I was just taken aback that this was allowed to happen," he said.
Mr. Christian told the station's Mike Petchenik that he had already been waiting to vote for approximately 45 minutes when Usher was escorted by election officials through the back door of the polling precinct and into a voting booth.
"At that point, he took his camera out, started taking pictures of himself in the booth, of his card and as he was voting," the voter added.
In a statement obtained by the station, Fulton County elections officials defended their decision to allow Usher to skip to the front of the line, pointing out that the R&B singer had notified them earlier of his intent to vote in person on election day.
"As a result, Poll Manager Frank Padula was directed to ensure that Mr. Raymond's presence would not become a distraction by taking necessary measures to move Mr. Raymond through the process as expeditiously as possible," the statement read.  "At no point was this decision made for preferential treatment, but to minimize and avoid a distraction at the poll."
Usher tweeted an Instagram of himself voting. In the photo, the R&B singer can be seen wearing red shoes, and a red, white and blue jacket. The accompanying tweet reads: "I did … did you?" For the time being, he has chosen not to comment on the controversy that was created when he cast his vote.