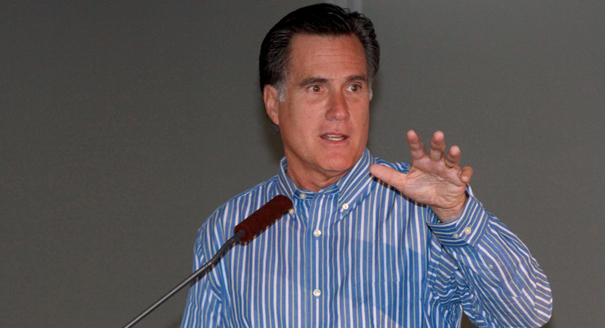 A video of Mitt Romney defending his religion has gone viral a day before the election.
A video of a visibly angry Republican presidential nominee Mitt Romney defending his Mormon faith has gone viral, according to POLITICO.
The video, which has received more than one million hits on YouTube, comes from an August 2007 interview with Jan Mickelson, the host of a conservative radio show on WHO-AM in Des Moines, Iowa. The interview was part of the governor's 2008 presidential campaign.
The video shows Mr. Romney discussing a number of religious topics with Mr. Mickelson, including his Mormon faith and how it relates to his political beliefs.
"I'm not running as a Mormon," Mr. Romney said on the video. "And I get a little tired of coming on a show like yours and having it all about Mormons."
The Michigan native was reportedly flustered because the host had asked him to explain the contradiction between his Mormon faith and his stance on abortion.
"Let me once again say, I understand my faith better than you do," Mr. Romney said. "You don't believe that, do you?"
 According to ABC News, the presidential candidate's stance on abortion has evolved over time. In 2002, while running for governor of Massachusetts, Mr. Romney said that he would "preserve and protect" a women's right to choose. In 2005, the governor said he was pro-life but that any legislation on abortion should be left up to the states. In 2007, he said that we should overturn Roe v. Wade and, in 2012, he said that no abortion legislation would be part of his legislation as president.
"I was beaten up in Boston because I pointed out, time and again that I encouraged girls not to get abortions, that I told them to have adoptions," the governor noted. "I have not done anything that in any way violates the principles of my church in that regard. I made other mistakes, but in that regard."
Religion did not play a big role in the 2012 presidential election, notes The Raw Story.
Polls, in fact, have suggested that most people were okay with the governor's Mormon faith. A poll from the Pew Forum on Religion and Public Life revealed that 60 percent of participants who were aware that Mr. Romney was Mormon were okay with his faith. The poll also revealed that 21 of participants didn't believe his faith mattered in the 2012 presidential election.