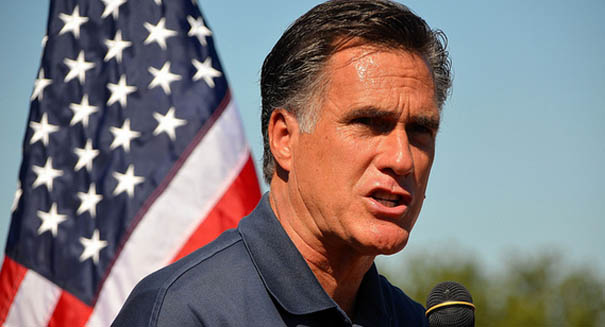 Republican presidential nominee Mitt Romney has won the race to be the subject of the most late-night jokes.
Republican presidential nominee Mitt Romney is the butt of more late-night jokes than almost all Democrats combined since the party nominating conventions, according to a new study of political humor by the Center for Media and Public Affairs (CMPA) at George Mason University. Even former California Governor Arnold Schwarzenegger, who admitted this year to fathering a child out of wedlock with his family's former maid, was made fun of less than Mr. Romney and President Barack Obama.
"Romney is leading in the humor race, but being the biggest joke is a race nobody wants to win," CMPA President Dr. Robert Lichter said in a statement.
The CMPA looked at the targets of all jokes about political figures from August 27 to October 3, 2012, in the opening monologues of the highest rated late-night comedians. The center analyzed the opening monologues of Jay Leno, "The Tonight Show," David Letterman, "Late Show," Craig Ferguson, "Late Late Show," and Jimmy Fallon, "Late Night."
According to the study, Governor Romney was the butt of 148 jokes on late-night talk show monologues, which is more than twice as many as President Obama. The president was the target of 62 late-night jokes. The CMPA notes that the Republican presidential nominee was targeted nearly five times more than Mr. Obama on "The Late Show with David Letterman." Mr. Letterman told 44 jokes about Mr. Romney and 9 about Mr. Obama.
The CMPA counted 290 jokes about Republicans and 138 jokes about Democrats. According to the study, President Obama finished fourth with 243 jokes in the 2008 presidential election. His opponents, Arizona Senator John McCain and former Alaska Governor Sarah Palin had a combined total of  1,224 jokes told about them.
Despite the disparity between Republicans and Democrats when it comes to late-night jokes, New Jersey's Republican Governor Chris Christie is receiving praise from a number of comedians for the way he's helping his state deal with the aftermath of Hurricane Sandy. On their first night back in front of the cameras, The Los Angeles Times reports that Jon Stewart, "The Daily Show," and Stephen Colbert, "The Colbert Report," praised the performance of Governor Christie.
Governor Christie "kicked crazy ass during the storm," Mr. Stewart said, adding that, "it's amazing how, once you remove political and partisan gamesmanship from a situation, performance improves dramatically." Of course, praise can sometimes come at the expense of the one it's directed at. "It's not just the hurricane that's hurting Romney. He has to deal with another threat that can be seen from space, Chris Christie," Mr. Colbert said.
Does this survey suggest that the media has a liberal bias or have Republicans given late-night comedians more material than Democrats? Sound off in the comments section.