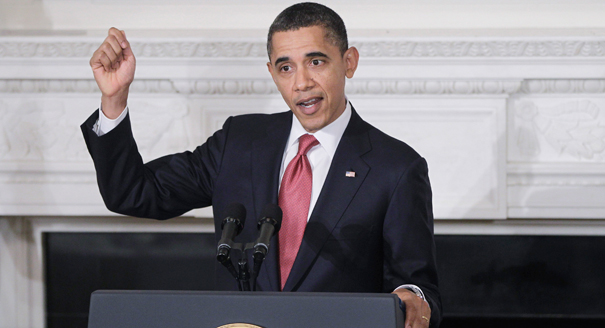 President Obama cautions East Coast residents to head warnings and take precautions as Hurricane Sandy approaches.
President Barack Obama fears that Hurricane Sandy is a "serious and big storm." The president urged Americans to take Hurricane Sandy extremely seriously and heed the instructions of state and local officials.
"At this stage, everybody is confident that the staging process, the prepositioning of resources, commodities, equipment that are going to be needed to respond to this storm are in place," Mr. Obama said at FEMA headquarters Sunday, according to a White House press release. "But as Craig [Fugate] has emphasized, this hasn't hit landfall yet, so we don't yet know where it's going to hit, where we're going to see the biggest impacts.  And that's exactly why it's so important for us to respond big and respond fast as local information starts coming in."
Hurricane Sandy has also had an impact on the presidential campaigns of President Obama and Republican presidential nominee Mitt Romney. While this fact is the least of people's worries it will significantly impact the candidates' ability to campaign in key swing states (such as Virginia) before the November 6 election.
"I don't think anybody really knows," Obama adviser David Axelrod said on CNN's "State of the Union" about the potential impact of Hurricane Sandy on the election. "Obviously, we want unfettered access to the polls because we believe that the more people come out, the better we're going to do, and so to the extent that it makes it harder, you know, that's a source of concern. But I don't know how all the politics will sort out."
Hurricane Sandy is expected to devastate communities on the East Coast, as powerful winds create widespread power outages and an impressive storm surge pushes water into homes and businesses.
According to the latest update on Hurricane Sandy from the National Hurricane Center (NHC), the massive storm, nicknamed "Frankenstorm" by some, has a minimum pressure of 943 mb with maximum sustained winds of 90 mph. In their 11 am update, the NHC notes that Sandy will turn northwestward soon, bringing life-threatening storm surge and coastal hurricane winds as well as Appalachian snows.
FEMA says that there are a number of ways in which you can prepare for the impacts of Hurricane Sandy. Writing on its blog, FEMA recommends that East Coast residents make the following preparations:
Go to an ATM and obtain some cash just in case you lose power.
Charge your phone or pick up a solar or car charger.
Cover windows, clean gutters and trim trees around your home.
Go to the store and grab water, nonperishable food, batteries and a flashlight.
Damage experts fear that Hurricane Sandy will cost the Northeast and mid-Atlantic billions of dollars. Writing in a column for Fox News, Peter Morici, an economist and professor at the Smith School of Business, University of Maryland, contends that "Sandy will impose greater destruction of property [than Hurricane Irene], and add to that the loss of about two days commercial activity, spread over a week across 25 percent of the economy, an initial estimate of the economic losses imposed by Sandy is about $35 to 45 billion."
As Hurricane Sandy approaches the East Coast, officials urge everyone to take this storm seriously and to take the necessary precautions before the storm impacts your community.