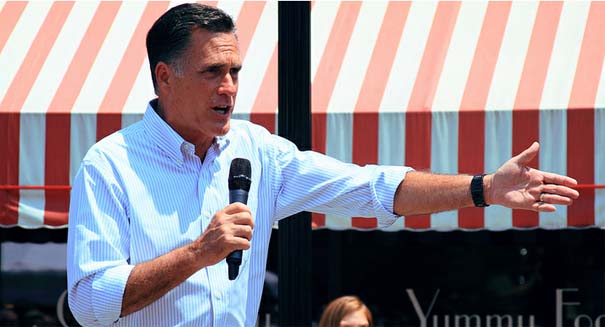 Meat Loaf struggles with the words to "America the Beautiful."
Meat Loaf endorsed Republican presidential nominee Mitt Romney Thursday night. During the final stop of his 310-mile bus tour, Mr. Romney celebrated with an energetic crowd and a concert by Big & Rich and Alabama's Randy Owens. Meat Loaf was also on hand to celebrate.
"This is the most important election in the history of the United States, because there has storm clouds come over the United States. There is thunderstorms over Europe," Meat Loaf said. "There are hailstorms, and I mean major hailstorms, in the Middle East. There are storms brewing through China, through Asia, through everywhere, and there's only one man that"  — he broke off abruptly. "The other night when President Barack Obama, God bless him, said to Mitt Romney, 'The Cold War is over.' I have never heard such a thing in my life."
With less than two weeks to go before the November 6 election, President Barack Obama and Mr. Romney are making their final push to earn votes in swing states such as Ohio, Virginia and Florida. While endorsements such as this one won't necessarily convince any undecided voters to vote for Mr. Romney, they tend to bring new buzz and media attention to a candidate in the waning weeks of the election.
"There is one man who will stand tall in this country and fight the storm and bring the United States back to what it should be — Gov. Mitt Romney!" Meat Loaf added.
At some point during the concert, Meat Loaf, Big and Rich and Randy Owen joined Mitt Romney on stage to sing "America the Beautiful." According to The Huffington Post, Meat Loaf appeared to struggle with some of the words during the performance. Asked by a TMZ photographer if Meat Loaf's rendition of "America the Beautiful" was appropriate, Arizona Senator John McCain said, "Change the song? Or have someone who knows the words?"
Regardless of his struggle with the words to the song, Meat Loaf's passion for the Republican nominee was evidence in his endorsement speech.
"I have been arguing for Mitt Romney for a year," Meat Loaf said. "You get out there and you argue with your relatives, you argue with your neighbors, you get in fights over politics and religion, 'cause we need Ohio! God bless ya. We love ya. Thank you. Keep rockin', and Mitt Romney!"
Mr. Romney, who has been endorsed by several other colorful figures throughout the 2012 presidential race, seemed pleased to be endorsed by Meat Loaf and to have heard several music superstars perform at his rally.
"Was it not just amazing to have Big & Rich performing, and then Meat Loaf? I mean Meat Loaf was here, can you believe it?" Mr. Romney said. "Look these guys have other things to do, you know — they have lives. They can go to a concert where they're getting paid, but they decided instead, because this election counts so much, to come here, and I want to thank them for their generosity and support."
This is not the first time a music superstar has endorsed the former Massachusetts governor. Rock legend Ted Nugent announced via Twitter in March that he was joining Team Romney. Perhaps the most unlikely person to endorse Mr. Romney was former adult film star Jenna Jameson. Ms. Jameson endorsed Governor Romney at a San Francisco strip club in August.
Whether or not Mr. Romney wins in November, the 2012 presidential race has seen a number of unexpected endorsements with Meat Loaf's being no exception.