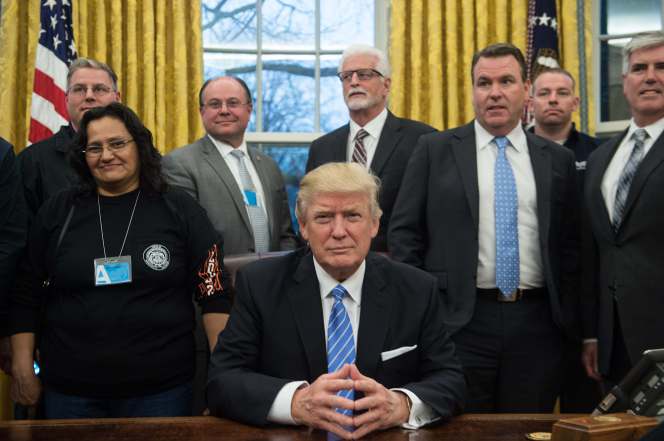 With their membership declining and workers demanding jobs, many unions look to Trump to deliver.
You've heard the contemptuous laughter from American liberals.
Donald Trump, a "friend" of labor? The man who employed thousands of undocumented construction workers on so many of his job sites? Who fought the efforts of culinary workers to form a union at the Trump International Hotel?  Who's already signed off on the GOP's fiercely anti-union, "right-to-work" agenda?
Sure, Trump won support among blue-collar workers in the Rust Belt, his critics admit. But just how did he do it?  By stoking xenophobic fear and racism toward "foreigners," they say. Trump may be a "master showman," as Bernie Sanders conceded recently, but he's also a "total fraud" when it comes to the rights and interests of workers.
The problem? These criticisms aren't resonating  inside America's beleaguered trade union movement.  While Democratic Party ideologues outside of organized labor may rail against Trump, there are strong divisions within labor's ranks over how to respond to his presidency.
It's hardly new.  Trade unionists for years have been divided over how to respond to Republican administrations. The overall national union structure, led by the AFL-CIO (formed in 1955) includes the powerful building-trades union which represents workers on major government and private sector infrastructure projects and traditionally leans conservative on foreign policy and social issues like abortion.
Most building-trades members have long voted Republican.  During the Vietnam War, they were the "hard hats" that supported Richard Nixon and railed against "welfare cheats" and students protesting the war.  And until fairly recently, many viewed immigration as a prospective threat to their jobs.
But today's AFL-CIO also includes some of the fastest-growing public sector unions, including the AFSCME and SEIU.  These unions, which have seen their membership balloon as large numbers of African-Americans and Hispanics have joined their ranks, tilt sharply Democratic.  And in recent years they have pushed the union leadership to adopt a broad-based "progressive" agenda on issues ranging from health care to immigration reform.
The divisions between the two wings of the labor movement have already shown up in their response to Trump's nomination of fast-food CEO Andrew Puzder as Secretary of Labor.  Puzder has blasted efforts to increase employee workplace protections, opposes an increase in the minimum wage (which Trump supports) and has even talked favorably about replacing workers with robots.   Some labor groups did openly oppose Puzder, but many others held their fire.
Trump so far has done his best to straddle these divisions.  Much of of his stated agenda, including opposition to free trade agreements, and pressure on big companies to reinvest in the American economy – and American workers – is turning out to be more than "populist" rhetoric.  Trump has already issued an executive order cancelling the TPP, a symbol of the bipartisan American globalism on trade that often disadvantages domestic workers. He may very well withdraw the United States from NAFTA, or force it to be renegotiated.
Trump's also cut a string of deals with major American manufacturers to keep some of their planned overseas production at home.  He's even threatened to punish companies that insist on relocating without trying to reach a deal to stay put.  Critics say these measures are largely window-dressing.
But there's no question that Trump's plans to rebuild America's roads and bridges — if fulfilled — will be a huge boon to the construction industry.  And not only native-born workers but millions of Hispanic immigrants that comprise today's industry — nearly 30%, in fact — will benefit.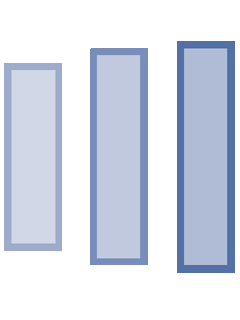 Labor's top leadership has done the math: the percentage of the unionized workforce fell to 10.7% last year – with just 6.4% in the private sector — its lowest level in generations.  And 42% of union households voted for Trump last November, just under the modern record set by Ronald Reagan in 1984.
So, with far fewer allies in Congress, don't be surprised if Big Labor  continues to look to the White House for help – and even a measure of salvation — and decides to play "wait and see," even cracking down on those within its ranks tempted to push confrontation too far.
In late January, out of the glare of the media spotlight, the new president hosted the leaders of North America's Building Trades Unions in the Oval Office. They pressed Trump on their top issue: threats to the "prevailing wage" standard, which prevents workers from being undercut by non-unionized workers.  And they pledged to work with the new administration
Sean McGarvey, the group's president, called it "by far the best meeting I ever participated in" in over 17 years in Washington – a period that covers the last two administrations, one Democratic, the other Republican.
Trump is a deal-maker, and many unions know it. They also know that without working class support, he might never have made it to the White House.
And so does Trump.  He may need that support to fend off liberals that did little to support labor's job needs under Obama but still insist on dismissing Trump as a corporate wolf-in-sheep's-clothing.