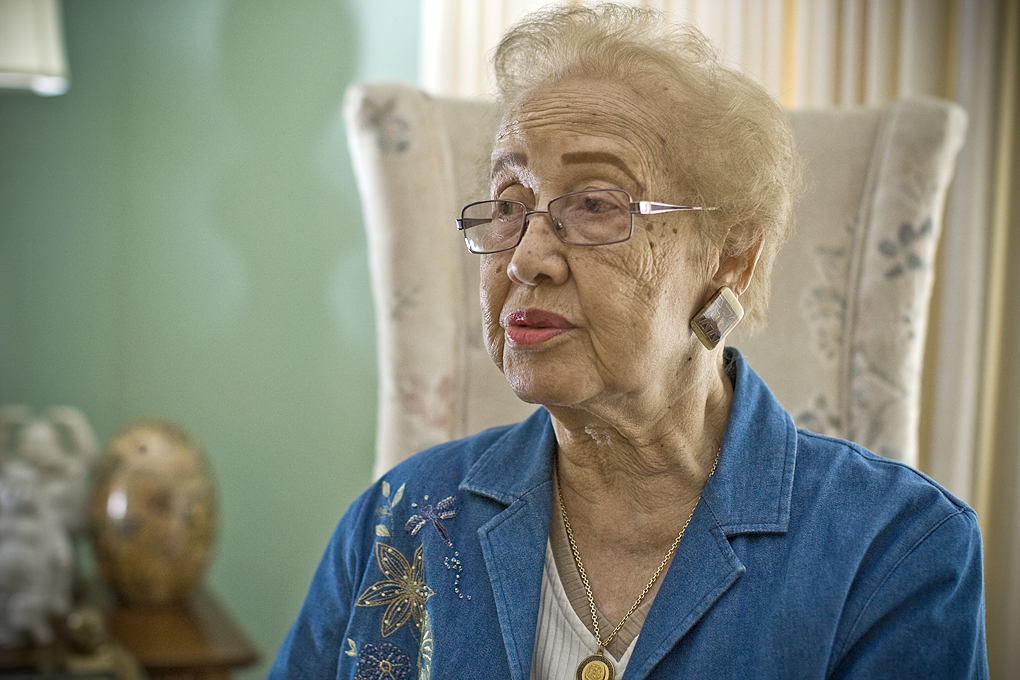 With an uncertain year ahead, Hidden Figures may be the historical drama we need to remind us of the strength of women in the face of an increasingly racist and sexist culture.
Hidden Figures, the biographical comedy drama that stars Taraji P. Henson and Octavia Spencer, had a limited U.S. release on Christmas Day but won't see a wide opening release until January 6th.
Maybe this is a good thing. We're coming into 2017 with a lot of uncertainty, fear, and confusion. Hidden Figures may be a piece of 2017 media that will remind us of the resilience of women in the face of adversity– something that is difficult to remember when there is so much damn adversity ahead.
In Theodore Melfi's Hidden Figures, based on the nonfiction book of the same name by the incredible Margot Lee Shetterly, we are introduced to one of the most iconic NASA mathematicians in history– Katherine Johnson. If we learn about Johnson in school, it's as minimal a segment as possible. This writer doesn't remember ever hearing her name in history classes, but she does remember hearing the names Buzz Aldrin and Neil Armstrong. Both of which were, of course, well deserving of their fame, but the painful lack of recognition for the woman who calculated the flight trajectories for the Apollo 11 flight is just that– painful. Who would have guessed that a woman, especially a woman of color, became buried under the weight of the white men who were the faces of the historically iconic Moon mission?
The Chicago Defender put it best: "As the scientific team of engineers and the nation's leading mathematicians worked diligently for NASA, we saw countless documentaries and films showing short-sleeved, white-shirt-wearing white males taking credit for launching humans in space."
After a stunning college career in which she studied literally every math course offered by West Virginia State, the summa cum laude graduate Katherine Johnson decided on a career in research mathematics. This, of course, was (and still is) a difficult path to take as an African American woman. Fortunately, Johnson was offered a position in the Guidance and Navigation Department at NASA, known at the time as NACA, as one of the first NASA team members in 1953. She worked as a human computer for an all-male flight research team. Her incredible knowledge of analytic geometry helped her make connections with her white male bosses. While the racist and sexist roadblocks remained in the way, Johnson ignored them and was fearlessly assertive at her job– she demanded a seat at the table and to be involved in meetings that women were typically not "allowed" to be in because she did the work and deserved a space. Despite being confined to workplace racial segregation until 1958, Johnson thrived in NASA and calculated the trajectory of the space flight of Alan Shepard, plotted backup navigation for future missions, and personally verified early electronic computing data for John Glenn's orbit. Her scientific papers are still available for study via NASA's archives.
What makes Katherine Johnson so important is simple– she was an ordinary black woman who did extraordinary things in a racist and patriarchal society. Where many stories are erased (and hers, to a degree, has felt the effect of whitewashing) Johnson's remains strong.
Hidden Figures couldn't come at a better time. The president-elect has made clear his distaste for people of color, women, and women of color without shame– and "alt right" (read: neo-Nazis) groups are banking on the normalization of accelerating the silencing and degradation of women, especially black women and women of color. Hidden Figures, if not much, can be a beacon of hope and a history lesson on the strength of marginalized people– a pick-me-up that we all desperately need right now.