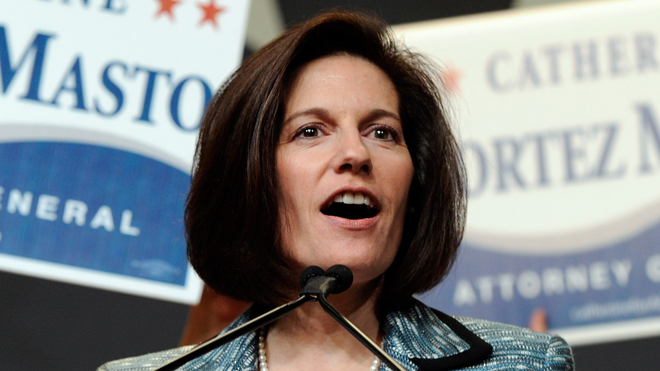 Democrat Harry Reid's hand-picked successor, Catherine Cortez Masto, scores a huge victory in Nevada
It's said that every dark cloud has a silver lining.  If so, last Tuesday's victory of Democrat Catherine Cortez Masto over Republican Joe Heck in the US Senate race in Nevada might be counted among the shiniest.  After trailing Heck for months, Masto pulled ahead of him in the last stages of the campaign and ended up prevailing by a narrow two-point margin.  Her victory allowed Democrats to claim an important upset win on a night when the party failed miserably in its bid to reclaim control of the Senate and even saw one-time Democratic power-hitters like Wisconsin's Russ Feingold suffer painful unexpected losses.
Masto's win sets a huge precedent:  She's the first female Hispanic ever elected to the US Senate, and it allows the Democrats to even the Latino "score" at two — with Masto joining Roberto Menendez (NJ) in the Democratic camp against the GOP senators Ted Cruz (TX) and Marco Rubio (FL).  All three are Cuban-Americans which makes Masto's emergence especially distinctive:   Though American-born, she's also the first US senator of Mexican descent.  Her mother is Italian but her father is the son of Mexican laborers who crossed the Rio Grande River as an illegal immigrant decades ago.
In her campaign, Masto used her own immigration back-story to considerable advantage, suggesting that it gave her special insight into Mexico-US border issues.  She even promised to be a steadfast advocate of a full-scale amnesty for undocumented workers, which will inevitably place her at sharp odds with Donald Trump and much of the GOP. At the same time, Menendez and Rubio, despite their own partisan differences, have jointly supported comprehensive immigration reform in the past.  Rubio, in fact, was a leader of the "Gang of Eight" that secured Senate support for a conditional "amnesty" in 2013.  In theory, adding Masto's strong and distinctive voice to this growing bipartisan chorus could embolden immigration reform advocates to push for a similar reform bill in the next legislative session.
Two factors, especially, seemed to fuel Masto's breakthrough victory.  One was Heck's decision to back away from supporting Donald Trump, who had been running competitively with Hillary Clinton for months and whose insurgent candidacy had helped boost his own.  Heck, like incumbent Senator Kelly Ayotte in New Hampshire, surmised that outrage over Trump's infamous "Access Hollywood" tape would threaten his own appeal to women so he withdrew his backing for Trump.   It was a major blunder.  Heck's support among GOP conservatives quickly crumbled.  He went from leading Masto in the polls by a point or two to trailing her by four within a matter of weeks, and his candidacy never really recovered.
Heck was also hoping that tying Masto to retiring Senator Harry Reid – who'd practically hand-picked her as his successor — would indelibly brand her as a member of the political establishment.  For some voters, it did, but as Nevada's high-profile two-term attorney general she'd already forged a strong bipartisan reputation as a successful crime fighter receiving credit for helping to curb the state's rampant meth epidemic.  Moreover, Reid's support meant that the party's powerful get-out-the-vote machine centered on the state's Latino-led teachers unions was there to help galvanize support for her candidacy.  Once Heck broke with Trump, whatever advantage in grassroots enthusiasm he might have enjoyed en route to Election Day largely vanished.
Money was also a huge factor in this race. By early October, the two campaigns combined had already spent a whopping $45 million, most of it on attack ads, a state record.  Heck received massive support (almost $8 million) from a network of political action committees controlled by the Koch Brothers, the conservative Kansas-based oil magnates. Cortez received financial backing from public service workers unions like AFSCME and from a coalition of pro-choice and women's groups, including Planned Parenthood, as well as from campaign finance reform groups.  There's an irony here:  Masto, like Reid, is a strong opponent of Citizens United, but in the end she spent almost as much money as Heck did and relied just as heavily on "big money" donors.
Latino groups, especially, are celebrating Masto's victory as a bright spot in an election filled with xenophobic symbolism and aggressive talk of stepped up deportations.  But the fact that most GOP candidates won their races by embracing Trump – and those like Heck, that didn't, lost — should serve as a cautionary warning.  The GOP is ascendant at all levels of government now – including, before long, the Supreme Court — so the space for genuine policy alternatives – as opposed to whimpers of protest — is closing fast.
Don't just celebrate, Democrats – organize.