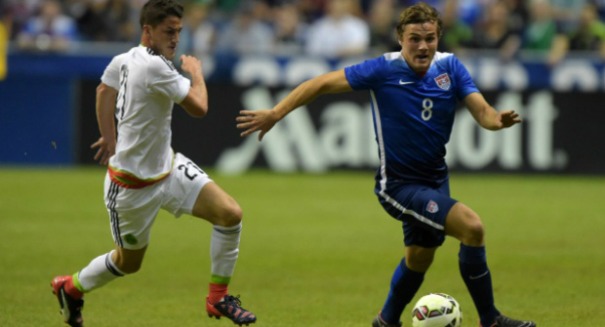 The U.S. has beaten the Mexican national team four straight times on American soil by that exact scoreline, and the trend continued with a breakout performance by Stanford sophomore Jordan Morris.
A college sophomore was the hero for the United States Men's National Team as it again defeated Mexico by a familiar 2-0 score at the Alamodome in San Antonio, Texas.
Jordan Morris, in his second year at Stanford University, poked home the first and ultimately game-winning goal early in the second half after getting around the Mexican defense and beating the goalkeeper, according to a Fox Sports report.
The United States has won four straight World Cup qualifiers against Mexico on American soil by that exact scoreline, although this friendly didn't have quite the stakes attached to it.
Mexico had a better first half, creating more changes and ultimately driving play, but they were not able to score, opening up the opportunity for the Americans to take control in the second half — which they did right away on Morris' first international goal.
Juan Agudelo got the second goal about 20 minutes later after getting around a defenseman and blasting a shot from the top of the box past the keeper.
U.S Coach Jurgen Klinsmann praised the team, saying that "everybody was on the same page," and that the team was ready to prove a point just a few months away from competing for the Gold Cup that will "hopefully take us to the Confederations Cup in Russia," he said according to the report.
Although Klinsmann depended on his more veteran players, it was Morris who turned out to be the sparkplug for the team, and his efforts were rewarded with a goal at a critical point in the game.
Mexico had their changes. Eduardo Herrera in particular came close, striking a shot wide within the first 10 minutes of the game, and then hitting the side netting shortly before halftime on a very dangerous shot, even though he was restricted to a poor angle.