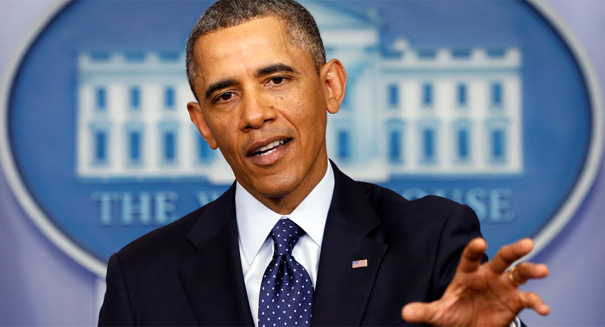 Trump's plan to boost drilling is going to have a major hurdle to clear thanks to Obama.
Donald Trump's upset election win over Hillary Clinton means the new administration is going to try to roll back a lot of Obama's policies during his eight years in office, but the president has one trick up his sleeve: he just moved to ban oil drilling in the Arctic Ocean for the next five years, which will throw a big wrench into Trump's drilling plans. The Department of the Interior announced the ban on Friday, which blocks the sale of new offshore oil and gas leases in the Beaufort and Chukchi seas north of Alaska from 2017 through 2022.
Environmentalists are a big fan of the plan in terms of what it does for Arctic and Alaskan communities, and the fact that it makes a bold step in addressing climate change, but they are also concerned that the Gulf of Mexico continues to be placed at risk. Also, environmentalists are urging Obama to use his executive authority to more permanently protect both the Arctic and Atlantic from drilling now that Trump is assuming the office.
Trump can undo the plan, but it would likely take years to do so.
The oil and gas industry, not surprisingly, reacted angrily to the news. The American Petorleum Institute called it a short-sighted move that was potentially detrimental to the economy.
"Our national energy security depends on our ability to produce oil and natural gas here in the U.S., and this decision could very well increase the cost of energy for American consumers and close the door on creating new jobs and new investments for years," API President and CEO Jack Gerard said according to the Huffington Post. "We are hopeful the incoming administration will reverse this decision ― consistent with the will of American voters."
This article originally appeared on Morning Ticker.