Security detail could divert resources, causing more harm than good for the people of Louisiana.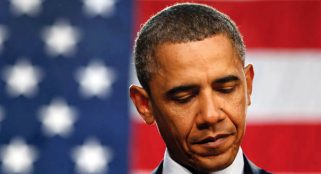 Louisiana has been hit by heavy storms which have resulted in tremendous flooding. More than a dozen have died, and countless others have been displaced.
This natural disaster deserves attention, and calls for federal aid have been met by President Barack Obama.
For some, however, that response is not enough. Many are calling for President Obama to cut his current vacation at Martha's Vineyard short to visit the ravaged area himself, and to survey the damage personally in order to understand the situation in a deeper, more meaningful way.
"A disaster this big begs for the personal presence of the president at ground zero," reads a recent editorial in the Advocate, a Baton Rouge-based newspaper. "In coming here, the president can decisively demonstrate that Louisiana's recovery is a priority for his administration – and the United States of America."
Former Republican Speaker of the House (and current Donald Trump enthusiast) Newt Gingrich took to Twitter to express his dismay at the president's absence as well: "Sad that Obama cant leave vacation for one day," he wrote.
Are these criticisms fair? Not really. While the president should prepare a visit to Louisiana in the near future, his immediate presence there wouldn't do much good. Security detail and other considerations may create more problems, not less, for the people on the ground. The president's visit there at this time could actually become a burden more than anything else.
That's not just my opinion: that's what Louisiana Gov. John Bel Edwards said, according to a report from NOLA.com:
Edwards said a presidential visit could cause additional problems for flood recovery efforts. Obama's motorcade requires many roadways to be shutdown — and many local streets are still closed because of the flooding. Also, a presidential visit puts a strain on law enforcement. First responders shouldn't be pulled away to deal with Obama, when they are needed for search and rescue missions still, Edwards said.
Emphasis in bold added.
The president should cut his vacations short when certain events occur that demand his immediate attention. But realistically, in this instance the governor is spot-on: the extra security and precautionary actions required to allow for Obama to visit the hardest hit areas would do more harm than good to the residents of Louisiana.
Criticism of the president on this issue should be silenced, at least until it's more feasible for him to make the trip a worthwhile one to take. President Obama needs to see the disaster area up close and personal — but not at the expense of those who are still in need of help.
UPDATE: The White House has announced Obama will visit the flood-ravaged areas, on August 23.