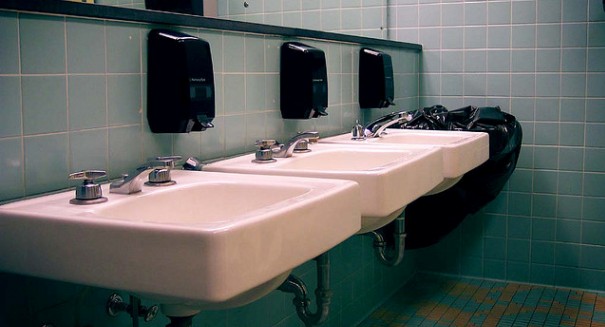 Single-occupancy restrooms could be just what the country needed.
Target Corporation recently announced the company has plans to add a private bathroom stall to all of its stores by the end of 2017, in response to some of their customers protesting by boycotting Target stores over its policy about the bathroom use of transgender persons.
Apparently only about 300 of Target's almost 1,800 locations across the US were lacking in single-occupancy or unisex restrooms, and the company plans to rectify that problem by March of next year, according to a release.
According to the Wall Street journal, Target's finance chief, Cathy Smith, admitted the decision was in response to customer feedback over their unhappiness with the retailer's restroom policy, while maintaining the upset customers had not had a material impact on sales for the company.  I guess the report the company just released that said its same-store sales declined for the first time in two years was just coincidental.
I just didn't realize how important it was to use the Target restroom.  I probably have used one in the past, but I can't recall a specific instance.  I'm quite certain if I did, the experience was remarkably uneventful, or else I would not have trouble with the recall.  I mean, if Target restrooms were a teeming hotbed of sexual deviants, lurking in the corners to snap pictures or otherwise harass restroom users, seems like I would have picked up on it a little quicker.
Nevertheless, it is good to know that the pressing problem of bathroom security is now behind us and we can focus on other issues facing the nation, such as the sagging economy, racism, conflicts with police, and raging fires and floods.
I'm certain that most other retailers and sports arenas across the land will now begin to convert all their restroom facilities to single-occupancy restrooms, since Target has shown the way to alleviate all the misery and discomfort caused by the law passed in North Carolina.
But, it may bring along its own set of new unintended consequences.  Right away, I see it is going to be much more difficult to convince the next user in line at the door that the surprise awaiting them as they enter was due to the previous occupant and it was almost all you could bear during your session.
And what about sporting events?  Every event I have attended with more than 25 females present has a line stretching outside the restroom door, even with a dozen stalls inside to use.  I will go ahead and apologize to the Twitter-verse for that sexist comment, even though it was not intended to be, but merely an observation based on years of experience.
I personally applaud the decision to install the single-seaters, not because I am transgender, or even that I fear being photographed or otherwise pestered during "the go."  I have always held that one's bathroom duties should be considered as private, and I have never favored sharing the experience, even with close friends and loved ones.
Anyway, I'm glad we can finally move on and I hope all those who got their undies in a wad over this issue can now retreat to the safety and sanctity of these single-occupant restrooms to straighten them out.
One word of warning, however.  If the guy in line in front of you has a book under his arm, you may want to consider holding it until you can get home.  He may want to stay a while.