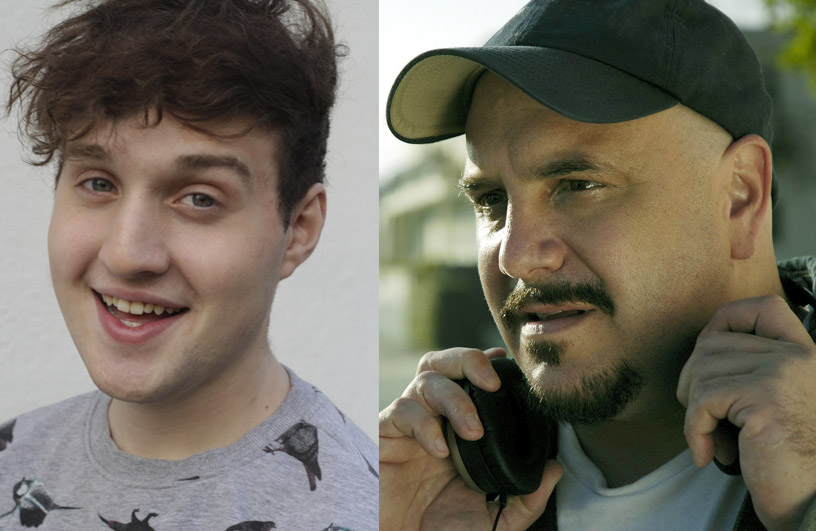 The star of 'Randy's Canvas,' Adam Carbone (left), and director/co-writer Sean Michael Beyer (right) want to make a film that both informs and entertains.
When it comes to cultural change, Hollywood can be ahead of the curve. Long before President Barack Obama was elected to the Senate, Morgan Freeman portrayed an African-American president in 1998's Deep Impact. When it comes to social awareness, again, Hollywood can be ahead of the curve. Before the United States released its first official report on AIDS in 1986, An Early Frost, the first onscreen depiction of AIDS, aired on NBC in 1985. These are just a couple of the ways Hollywood paved the way for social awareness.
One of the latest projects out of Hollywood to promote social awareness is the upcoming film, Randy's Canvas. Los Angeles and Rhode Island filmmakers have teamed up with The Autism Project, Rhode Island to raise production funds and produce Randy's Canvas, the story of an aspiring artist who has Asperger Syndrome (a form of high-functioning autism) as he falls in love for the first time and deals with a whirlwind of emotions and first-time experiences.
Many of the people in The Autism Project, Rhode Island will be involved with the making of the film as well. Director and co-writer Sean Michael Beyer explained, "it's mutually beneficial in a lot of different ways. We're going to draw awareness to them, but at the same time, we're going to involve the young adults to work on the set. We're going to involve as many of the kids and their families as possible. They're really, really excited about being involved in the process of making a movie."
The film has already received a stamp of approval from Joanne Quinn, the executive director, The Autism Project, Rhode Island. "I was impressed with everyone's commitment to creating a movie that is accurate as to what it's like to live as a person on the autism spectrum. Who better to tell you than people you are portraying. I'm excited for our teens and families to be active participants in the process."
The star of the film, Adam Carbone, elaborated, "Autism Project, Rhode Island was very helpful. They allowed us to come into their facilities watch some of the kids in their summer camp program. It was a great learning experience for my character to see what they do and how helpful this charity is for the kids with what they do for them. So while they're learning about the movie industry, we're learning about their program."
While everyone has heard the word, autism, there are many misconceptions about autism itself. Randy's Canvas is a non-profit narrative film that serves to raise money with its profitable release to support services for people on the autism spectrum and to spread autism awareness—worldwide. A primary goal of this partnership is authenticity. The filmmakers are working with The Autism Project and individuals on the autism spectrum to ensure that the story and characters reflect their lives more accurately than any previously portrayed in fictional films.
Adam explained how everyone involved with Randy's Canvas wants to focus on the reality of autism. "We want to make sure my character is as real as possible in depicting autism. We talked to the kids about how autistic people have been portrayed in movies and many of them weren't happy about it. There's a broad spectrum of autism and we want to make the characters in the movie as believable and accurate as possible."
Randy's Canvas, while realistic, will be entertaining as well. Sean added, "we don't want people to think that this is a dry documentary. I can't emphasize this enough, but this is a fictional story. We just wanted to do our homework. It's not a biopic. It's not a true story. It's the struggle of an aspiring artist. He paints. He draws. He's pursuing his career of being an artist and he falls for this woman who's way out of his league. She's reciprocal in his feelings for him and he doesn't know how to handle that."
Adam summed up the film well. "It's a real person dealing with real issues. It doesn't matter if he's autistic or not."
For more information or to donate money for this socially conscious film, visit the official website at randyscanvas.org.