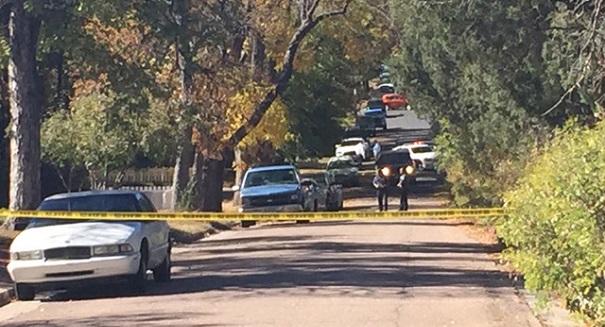 A shooting spree in Colorado Springs Saturday morning left four people dead, including the shooter.
Two women and a bicyclist died in a shooting spree in Colorado Springs Saturday morning before the shooter was killed by police in front of a Wendy's restaurant. According to witness Matt Abshire, the armed man was walking down the street "calmly," "like he was walking his dog." Police said the man was "heavily armed."
The first shooting, at about 8:45 a.m. Saturday, left a passing bicyclist dead. The incident began in a Colorado Springs neighborhood on North Prospect street, and progressed over several city blocks. Naomi Bettis, a neighbor of the gunman, said that he looked right at her and she started walking away. She says she believes she would have been killed had a bicyclist not come around the corner. Witnesses said the bicyclist said "don't shoot me," before the gunman fired three times.
Bettis said the gunman did not appear to be angry, but just "looked like he was somebody that was going to be on a mission." She called the police.
Teresa Willingham heard the shots fired. Her 7-year-old son came and told her that a bike rider had fallen down in front of the house. She called the police, who told her there was a shooting going on and to stay away from the windows. The cyclist's body lay in front of her house for 11 hours while police investigated the shooting.
Abshire called the police after seeing the bicyclist shot, and followed the shooter westbound on Platte Avenue. While Abshire was on the phone with police he saw the shooter fire at two women who were on their porch near the intersection of El Paso St. and E. Platte Ave. By the time he reached them one was dead. The other woman also died of her injuries.
Police caught up with the suspect in front of the Wendy's restaurant on Wasatch Street and Platte Avenue. When the suspect fired multiple times at police they shot and killed him. Ross Trottier, a pedestrian, was caught in the crossfire between police and the suspect. A police officer pulled up and told the suspect to "drop your gun." Trottier said that when he heard that he dropped to his stomach in the median. He said the bullets went right over him.
The only person to be killed in the shootout at the Wendy's was the suspect. Colorado Springs police have not yet released the names of the victims or the shooter.