An employee of a Las Vegas cryotherapy center was found frozen to death in a treatment tank last week.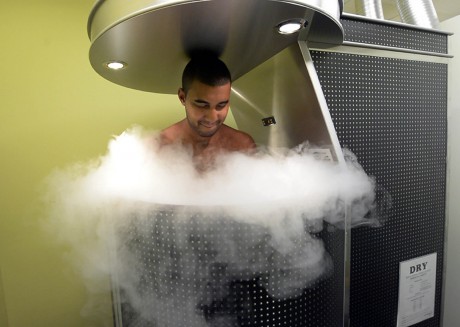 Cryotherapy is being billed as a new "deep-freeze" treatment for muscle pain. It involves spending a few minutes inside a chamber filled with super-cold air, with temperatures as low as minus 240 degrees Fahrenheit. Last week Chelsea Ake-Salvacion, 24, an employee of Las Vegas cryotherapy center Rejuvin-Ice, got in one of the tanks after work for a treatment and was found by a coworker 10 hours later. Her uncle said the coroner told him that she was "rock-hard solid."
The death has raised questions about safety with the practice, which has been booming since famous athletes began using it. It is touted as speeding recovery after exercise or injury. The treatment tank looks like a metal box with smoke pouring out. The smoke is nitrogen-rich, and medical experts say perhaps Ake-Salvacion was overcome by it and lost consciousness. She then froze to death. The Nevada Occupational Safety and Health Administration (OSHA) said they believe the woman was in the tank for over 10 hours. A standard treatment is mere minutes.
Hailey Cap, office manager at Rejuvin-Ice, said that while workers at the spa often use the cryochambers, they never do so alone. Ake-Salvacion texted her boyfriend at about 7:30 the evening of Oct. 19, saying she was going to use one of the tanks for a bit. The coroner's office said that she died just minutes after climbing into the chamber.
Cap said she does not know why Ake-Salvacion would have done a treatment alone, saying "we don't do that." She said one reason for not doing solo treatments is that the nitrous gas, which is used to chill the air in the tank, can be debilitating.
A Las Vegas police spokesman said that it did not appear that any crime had been committed, although the case remains open. OSHA has decided not to open an investigation because the employee was using the chamber outside business hours, for her own personal use, making it outside their jurisdiction.
A March 2014 article in the Open Access Journal of Sports Medicine reported that, while no adverse effects of cryotherapy have been reported, there was little evidence to support that it significantly improved recovery over the use of traditional ice packs.