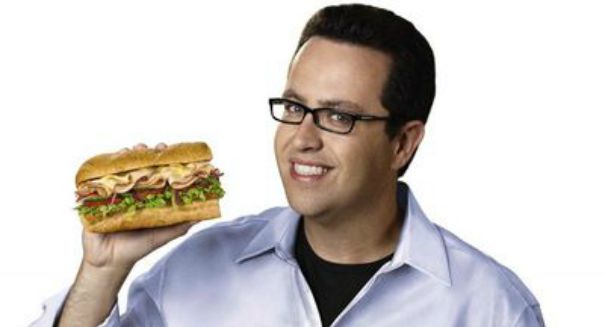 Fogle's unreal story is one of triumph and unbelievable downfall.
He was someone everyone could relate to: a guy struggling with his weight that had finally cracked the code of weight loss through a Subway sandwich diet, and he used his image to create a foundation to help childhood obesity — but records indicate it hasn't issued a single grant since being founded seven years ago.
Fogle's story caught the ears of Subway execs, who immediately saw the perfect face of their franchise that could give them an edge over typical fast food restaurants, and appeal to the increasingly health-conscious consumer. But now, the celebrity spokesman that was worth $15 million is headed for a long jail sentence as he is expected to plead guilty to charges including possessing child pornography and having sex with a minor — an amazing fall from grace that probably no one could have predicted, according to a USA Today report.
Back in 2008, with Fogle already well-known as the pitchman for Subway, Fogle announced that he wanted to do more than just market sandwiches: he wanted to create a foundation to help fight childhood obesity, announcing that his non-profit foundation, the Jared Foundation, would distribute $2 million to schools and community organizations.
But years later, the Jared Foundation has not issued even one grant, and has spent just $73,000 on average each year from 2009 through 2013, with 60 percent of that money going to the executive director, and 26 percent unaccounted for, according to the report.
The foundation hasn't even managed to pay the measly $5 annual registration fee to the state of Indiana since 2008. It ignored delinquency notices, and finally the Indiana Secretary of State dissolved it in 2012, although it is still recognized by the IRS.
Today, its 38-year-old founder is confined to his mansion outside Indianapolis as he awaits sentencing on charges of child pornography and sex with minors. His second wife has started divorce proceedings. His Facebook page, since removed, is filled with taunts and insults.
And officials believe his activities are no one-shot incident — he's been hit with multiple charges, and some have alleged he's been doing this for years with an untold number of victims.
Federal charging documents indicated he first got a hold of child porn back in March 2011 from a friend of his. The child porn allegedly in his possession show images of children as young as just 6 years old.
Fogle lost 245 pounds in college through a diet of Subway sandwiches, but those size 60 jeans will no longer be what he is known for.