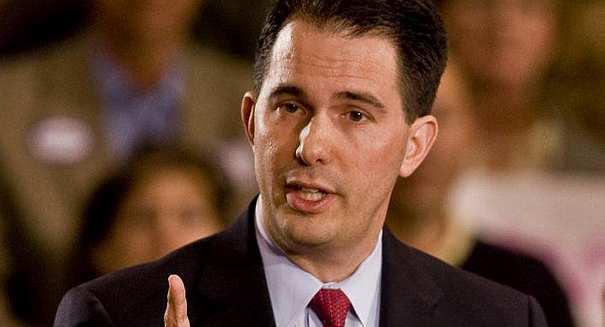 The Wisconsin Governor known for his anti-union legislations will be speaking at an ultra-right event this evening.
Although he only recently announced his intention to run for president in 2016, Wisconsin Governor Scott Walker is already considered to be one of the leading candidates. In recognition of his status, the American Legislative Exchange Council (Alec) has selected Walker to headline their annual political rally.
Alec is a conservative organization known for its enthusiasm for far-right opinions on topics ranging from the environment to criminal justice to labor.
It is this last area that most likely ignited their desire for Walker. The Wisconsin Governor is notorious for withstanding public demonstrations against his labor policies. Upon vanquishing his leftist foes, Walker enforced strong legislation to limit collective bargaining. He also made it so Wisconsin public employees have to pay more for their health care benefits and pension funds.
Alec offers model legislation for state lawmakers looking to reduce the strength of unions.
Many pundits believe that Walker, who is to speak Thursday, will seize this chance to describe his platform for 2016. Already 1,300 Republican state lawmakers have registered to attend the conference, which will begin with workshops on how to govern electronic cigarettes and higher education.
Also speaking on Thursday is Arkansas Governor Mike Huckabee. He will focus on how to run an effective political campaign. Senator Ted Cruz had been scheduled to speak on Friday but canceled his appearance.
Already hundreds of protestors have gathered outside the Manchester Grand Hyatt, a downtown San Diego hotel where the conference is taking place. Many carry signs pertaining to the labor including 'Stop the Assault on Working People' and 'Big $$$ Out of Politics'. The hotel is doubling its security measures to ensure that only registered guests with verified identifications can enter the building.