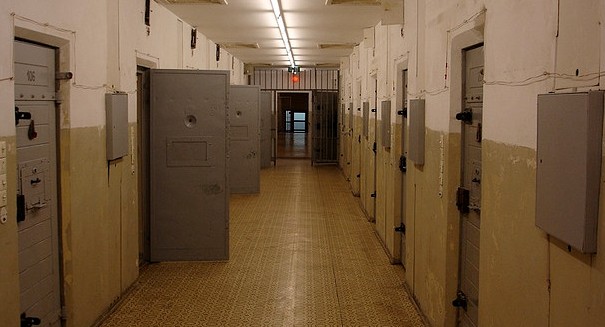 President Obama speaks out about the awful fates of inmates after an afternoon at a maximum-security prison.
President Barak Obama made history this week- he became the first seated president to visit a prison. Obama spend Thursday touring the El Reno maximum-security prison.
The situation was tense, as Secret Service and prison guards worked to ensure the president's safety while he strolled through Cell Block B. This is the Residential Drug Protection Unit of the prison and is where many nonviolent drug offenders live out their terms.
One of the most disturbing moments was when the president entered cell number 123. The cell had been emptied for the occasion but that did nothing to assuage the discomfort of the scene. Even the camera team had difficulty getting a decent shot in such a tiny space. Two adult prisoners were expected to share the cell; it had once held three.
The event visibly moved the president. He seemed reflective has he stared at the fate of so many young Americans.
"We've got to be able to distinguish between dangerous individuals who need to be incapacitated and incarcerated versus young people who… if given different opportunities, a different vision of life, could be thriving," said Obama. "That's what strikes me — there but for the grace of God. And that I think is something that we all have to think about."
Obama then sat down with six inmates. In turn, they told him their tales.
"When they describe their youth and their childhood, these are young people who made mistakes that aren't that different than the mistakes I made and the mistakes that a lot of you guys made," said Obama on speaking with the inmates. "The difference is they did not have the kinds of support structures, the second chances, the resources that would allow them to survive those mistakes."
The visit comes at the end of a weeklong push for prison reform.
On Monday, the president commuted the sentences of 46 federal prisoners who had been incarcerated for nonviolent drug offenses. On Tuesday, Obama urged Congress to pass legislation to reform sentencing laws.
Throughout the week, Obama has been pushing for a number of reforms aimed at improving prison conditions and reducing the number of people behind bars. He strives to eliminate mandatory minimum sentences, to end voting prohibitions for convicted felons, to limit the use of solitary confinement, and to restore proportionality to drug-crime sentencing.
In short, the President said prisons "should focus more on rehabilitation than on punishment."