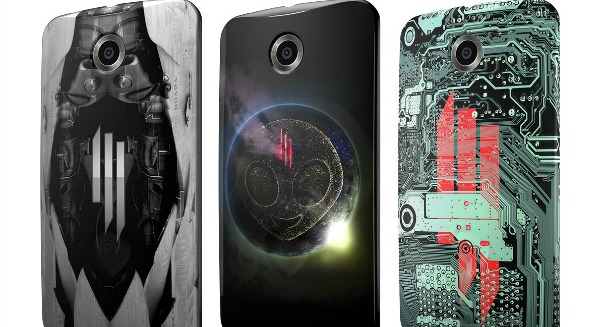 It's more than just a shell -- it connects to your phone and sends you wallpapers from Skrillex's personal satellite.
Got a Nexus or Samsung phone? Do you love Grammy-winning producer Skrillex? Well, you're in luck.
Google is launching limited-edition smartphone cases in partnership with Skrillex that will be usable with Nexus and Android smartphones, including: Motorola Google Nexus 6, LG Google Nexus 5, Samsung Galaxy S5, Samsung Galaxy S6, and Samsung Galaxy Note 4, according to an NDTV report.
The cases will be available on Google's Store, and you can buy them through the end of June, although no price for them has been announced yet.
The cases must be used on an Android 4.4 or above and be synced with the Live Case app. They will come in three versions: Lil Planet, Circuit Bae, and Space Shield.
But it's more than just a shell. The cases also show live wallpapers shot by Skrillex's satellite — yes, he has a satellite, and it's named after his dog — showing wallpaper displays of earth during the day and constellations that you can see from your location during the nighttime.
In addition, those who pick up a case will get a sneak peak at his new album, Owsla, on Google Play, and updates relating to Skrillex will be sent directly to the phone. Users will also have a button built into the case giving them immediate access to Skrillex's music feed on YouTube, although it can be customized to open whatever app you want or even launch the camera.
Skrillex — real name Sonny John Moore of Los Angeles — is an electronic dance music producer, DJ, songwriter, and singer. He was in a band called From First to Last, where he was their lead singer, but left in 2007 to pursue a solo career. It was in 2009 while working on a debut studio album called Bells that he decided to start performing under the name Skrillex, and released the album My Name Is Skrillex EP for free download via MySpace. He was nominated for five Grammy Awards in 2011, and won three of them. In his career, Skrillex has one six Grammy Awards.
The new space-themed phone cover reflects Skrillex's own fascination with space, and hence why Google sent 13 satellites into orbit on his behalf as part of the live-case endeavor. According to a GQ profile, the earliest dream he can remember is a spaceship landing outside of his childhood home.
Skrillex also teamed with Red Bull to build a model spaceship on stage in October 2014.