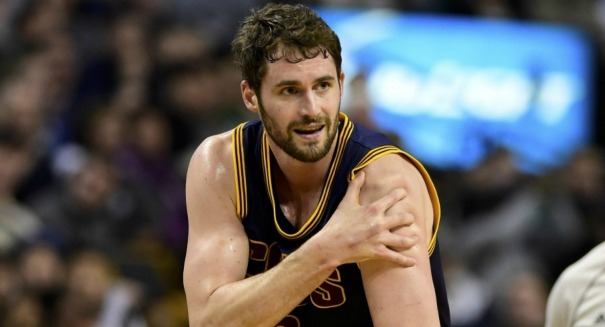 Love dislocated his shoulder in what he claims was a dirty play by the Boston Celtics' Kelly Olynyk during a scramble for the ball.
Cleveland Cavaliers forward Kevin Love dislocated his shoulder in a matchup with the now-vanquished Boston Celtics, and the prognosis is not good: he had surgery yesterday to repair his left shoulder, and he'll be out up to six months.
That means Lebron James and company will have to do without one of the most dynamic forwards in the game, and a key part of the Cavaliers' success, according to a USA Today report.
Love had surgery at the Hospital for Special Surgery in New York City, and he will continue his treatment and rehabilitation at Cleveland Clinic Courts and Cleveland Clinic Sports Health under the supervision of the Cavaliers' medical staff, according to the report. His recovery time will be four to six months.
The injury happened in the first quarter of the last game in Cleveland's series sweep of the Celtics in the first round. He was battling for a loose ball with Kelly Olynyk when Olynyk pulled on Love's arm and caused the dislocation, which Love immediately recognized and then ran off the court and into the locker room. Olynyk denied that he had attempted to injure love, but Love wasn't buying it, calling it "bush league" and saying he was convinced it was an intentional move.
There was no foul called on the play, but the NBA suspended Olynyk for one game the next day. Since the Celtics' season ended with that game, that suspension will take effect next season.
This is a big year for the Cavaliers as they finally return to being a contender with the return of Lebron James, and it was therefore a big year for Kevin Love who hoped to team up with Lebron and win a championship. Those dreams will be have to be put on hold for Love — and perhaps for the Cavaliers too, who may have difficulty replacing his offensive firepower.
In addition, Love's contract is coming up for renewal this summer when he is set to become a free agent, although he has indicated he wishes to remain with the Cavaliers.