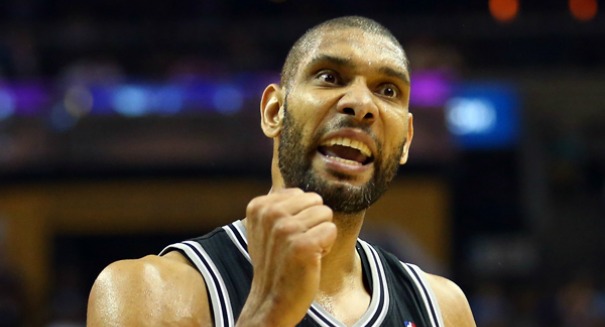 Everyone seemed to have written off the defending champion Spurs because of their age, but their future Hall-of-Fame center Tim Duncan is having the time of his life, and his team is still winning.
He's got five national championships to his name and his eyes on a sixth, but Tim Duncan he's just enjoying playing basketball right now.
At 39, the star San Antonio Spurs center is surely headed to the Hall of Fame and knows that his time playing in the NBA is winding down, but Duncan said that just means he's enjoying playing more, according to a USA Today report.
His team got one step closer to a 6th title on Tuesday after his team won 111-107 in Game 5 over the Los Angeles Clippers, the Spurs taking a 3-2 lead in the best-of-seven series against the higher-seeded Clippers.
Duncan told USA Today he was "enjoying it," adding that he felt no pressure and was essentially playing with "the house's money."
Despite his age, Duncan is playing some of his best basketball in the playoffs. He piled up 21 points, 11 rebounds, four assists, and even added three steals in the win, and his team needed every one of them to pull out the narrow victory against a tough opponent.
As accomplished as Duncan had been up to 2013 — he had already won four titles — it certainly stung when his Spurs fell to the Lebron James-led Miami Heat in the 2013 NBA Finals. So it certainly must have been liberating to avenge that loss in a rematch the following year in what many assumed would be the Spurs' swan song. And yet, here they are again, and Duncan couldn't be happier.
Spurs Coach Gregg Popovich said that Duncan will continue to play as long as he can play effectively. And while Duncan is doing just that, he knows he can't do it forever, and for now he's just trying to enjoy himself. At the very least, he has himself a guaranteed spot in the Hall of Fame and will surely enter the discussion as one of the greatest players of all time.