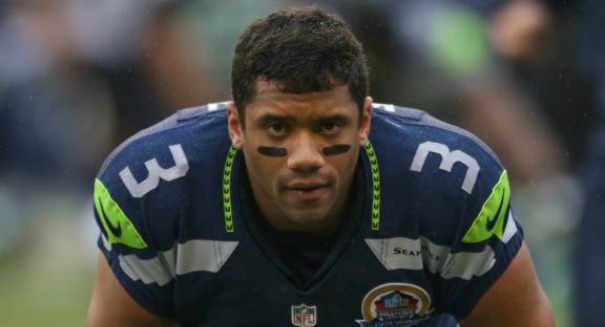 Wilson, has played minor league baseball in the past, said he's mulling whether to become a two-sport athlete as he negotiates a contract extension that could make him the highest-paid quarterback in the NFL.
Seattle Seahawks quarterback Russell Wilson said he hasn't given up on the idea of playing professional baseball.
Wilson told Bryant Gumbel in a recent interview for HBO's Real Sports that he hasn't entirely shut the door on the idea of being a two-sport athlete, stating that "you never want to kill the dream of playing two sports," according to a Seattle Times report.
Asked what's keeping him from doing so, he said he didn't know and that he may "push the envelope" someday soon.
All of this should probably be taken with a grain of salt as he is in the midst of negotiating a contract extension with the Seahawks. Wilson could potentially become the highest-piad player in the NFL with the new deal, beating out the $22 million salary of Green Bay's Aaron Rodgers.
Seattle coach Pete Carroll would only say that talks have been ongoing, and that there isn't much more they can say. The Seahawks want the deal done before the next season begins, and if it's a big deal, you can expect Wilson to give up on his baseball dreams. Until that happens, however, Wilson appears to want to keep those doors wide open.
Wilson has attended spring training with the Texas Rangers in the past, and once hit a home run in batting practice this year. He played minor league baseball in 2010 and 2011 as a member of the Colorado Rockies, achieving an OPS of .713 in 2010 and .708 in 2011.
Wilson also discussed the final play in the Super Bowl, which resulted in the Seahawks defeat and denied him his second consecutive championship. He said he was expecting to get a touchdown, and that he had tried not to watch that play too much anymore.