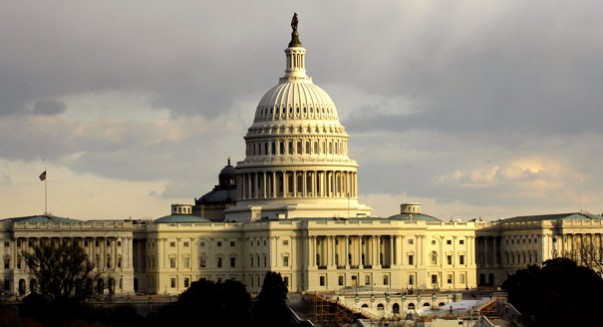 The man was carrying a sign that said "tax the one percent" when he shot himself on the Capitol grounds.
A man holding a sign protesting "social injustice" shot himself in front of the U.S. Capitol Building, causing a brief terrorism scare and a lockdown that has since been lifted.
An unidentified man had a sign taped to his hand as well as a backpack and a rolling suitcase, the latter of which caused a bomb investigation, according to a New York Daily News report. The words that were on the sign were not revealed, although those who saw the sign said it had something to do with taxation. One report indicated that the sign said "tax the one percent," which he appeared to raise shortly before he shot himself.
The bomb squad went through his bags as they investigated. They had clothes inside.
Bridget Maley was with a friend on a tour of the Capitol when the lockdown happened, she told the NY Daily News, describing the atmosphere as "calm." The tour continued as usual, and her guide even went so far as to say that a lockdown wasn't an unusual occurrence.
Hundreds of people were escorted out through an underground passageway to the Library of Congress. They waited near gift shops and inside a restaurant and were told to walk opposite of the Capitol.
Only one shot was fired by the man, who didn't have any proper identification on him.
Lawmakers were not around at the time, as Congress was out of session on spring break. They are expected to reconvene on Monday.
Tourists filled the area due to the annual cherry blossom festival in the city, which began with a parade that day.
Witnesses said after hearing a pop, a man was laying on his side next to a roller briefcase, a backpack, and a sign. Police immediately rushed forward, but the man wasn't moving, according to a Washington Post report.