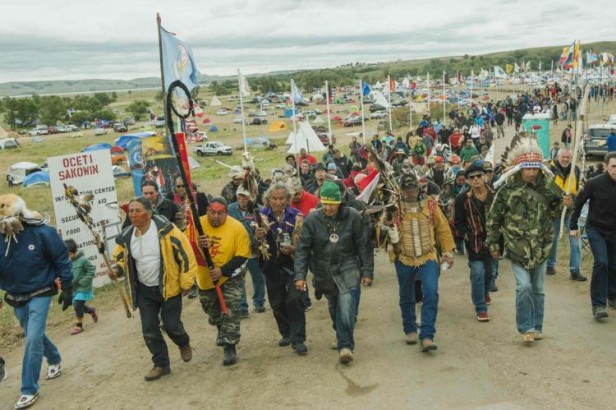 While Beavis and Butthead Do America is constantly aired until November 8th, this little story has been conveniently ignored.
The 'Dakota Access' is an underground pipeline being built by a conglomerate under Energy Transfer headed by Texas billionaire, Kelcy Warren. It will carry over half-a-million barrels of oil per day from fields in western North Dakota, to facilities in Illinois. According to the company's fact sheet here, the pipeline is needed in order to have a safe, efficient means of transporting oil, as the strain on pre-existing infrastructure, such as trucks and rails, is too great.
According to the company, the project will create jobs, and generate revenue for the affected states. Furthermore, according to the company, "DAPL has incorporated protection of sensitive resources from the very start of the process to route, design, build and eventually operate a pipeline" which includes protections for agricultural, and environmentally or culturally sensitive lands. "As an operating principle, Dakota Access will work with individual landowners to make accommodations and to achieve full restoration of impacted land."
The project has not, however, gone without protest. Several Native American tribes have raised issue with the fact that the pipeline will cross ancient burial grounds, and potentially contaminate drinking water. Numerous landowners have had further issue with the use of eminent domain laws to seize private property for the benefit and profit of corporate entities. This includes land that was guaranteed to the Lakota Sioux by the Treaty of Fort Laramie, which had previously been violated by the construction of the Garrison Dam.
And there are the obvious environmental risks involved with any oil pipeline such as this one which crosses wildlife habitats and three major rivers, they leak. According to a review by the Wall Street Journal, over 1400 leaks and accidents involving oil pipelines occurred in the US alone, between 2010 and 2013, 80% of which are discovered by residents, not the companies operating the pipelines. So it's understandable there would be concerns about digging under the Missouri river, which provides drinking water to millions of Americans across several states.
At the protest site, despite daily calls from tribal elders to follow a peaceful resistance model, local sheriffs and state law enforcement have brought in heavy equipment including armored trucks, attack dogs, and national guard, and employed ordinance such as high-powered acoustic weapons, bean bag launchers, and according to some protesters, rubber bullets. Earlier this week, over a hundred protesters were arrested and held without bail. This was not the first time, and these mass arrests often include journalists such as Amy Goodman and Deia Schlosberg, who are then charged with miscellaneous offenses relating to their coverage of the story. Local law enforcement agents have responded by accusing protesters of using firearms and Molotov cocktails to confront them, allegations denied by protesters.
Recently, the company has won battles in court, allowing it to seize parcels of land from private citizens, disturb ancient burial grounds, and construct through public drinking water sources. Despite these setbacks, over a thousand protesters remain at the site, blocking progress, and their numbers grow daily.
---
Michael Patrick Lewis is a teacher, and bestselling author of Edge Of God, and Preferred Rewards. He also has the best wife in the world, but she doesn't eat kale, either.